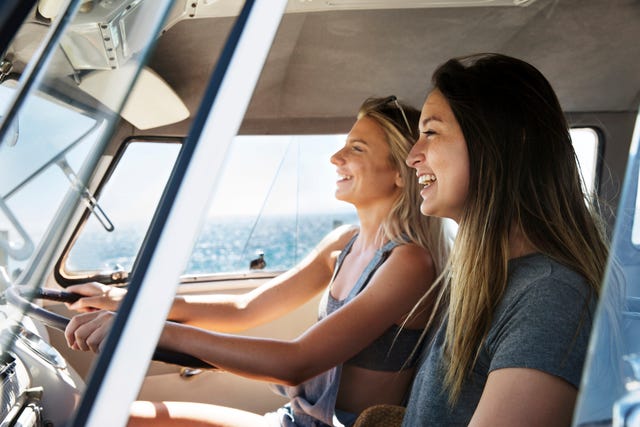 Kristina LindbergGetty Images
Car insurance for 18-year-old drivers tends to be more expensive than insurance for older drivers. Insurance companies view younger drivers to be a higher risk because they don't have much experience driving.
Average Cost of Car Insurance for 18-Year-Old Drivers
According to NerdWallet, the national average car insurance rate for an 18-year-old driver is $4830 a year for full coverage and $1940 a year for minimum coverage. Rates can vary depending on where a driver lives. For example, drivers who live in Hawaii and North Carolina can expect to pay less than the national average, while 18-year-olds living in Louisiana and Michigan can expect to pay more.
NerdWallet also points out that male drivers pay more for car insurance than female drivers. Statistics show that drivers ages 16 to 19 cause three times as many fatal accidents as drivers over the age of 20. Male teen drivers are responsible for two-thirds of those accidents. Even if you're an 18-year-old driver with a clean record, insurance companies take into account the statistical likelihood that you'll cause a serious accident. Insurance companies also factor in teen drivers' lack of credit history, unmarried status, and lower educational level.
Factors That Affect Car Insurance Rates
As Motor1 points out, there are factors other than age that can affect car insurance rates for 18-year-old drivers. Those factors include the following:
Gender – Not only do male drivers tend to be responsible for more accidents, but they also tend to have more incidences of DUIs than female drivers. When women are involved in car accidents, they're usually less severe, so insurance companies consider women less of a risk to insure. While seven states, including California and Michigan, forbid insurance companies from considering gender when calculating insurance rates, it's still a significant factor across the country.
Location – When calculating car insurance rates, insurance companies look at how much crime, especially theft, occurs in a neighborhood and how many uninsured drivers live in an area. If you live in a zip code with higher crime rates and more uninsured drivers, your provider will charge you higher rates.
Type of Car You Drive – If you're in the market for a new car or you're a parent buying a car for a teen driver, remember that the type of car you buy can affect car insurance rates. An inexpensive car means less expensive car insurance rates. Insurance companies also tend to provide discounts if your car has lots of safety features.
Credit Score – Statistics show that drivers with higher credit scores tend to file fewer claims. Companies also tend to view drivers with higher credit scores as generally more responsible. If you're the parent of a teen driver, you can help your teen establish a credit history by adding them to your credit card as an authorized user.
Coverage Limits – While states only require a minimum amount of liability coverage, teen drivers and their parents should consider adding more than the minimum since teen drivers are more likely to have an accident. If you're financing or leasing your vehicle, your lending company may require you to carry comprehensive and collision coverage. The more coverage you carry, the higher your rates. However, you can lower your rates if you set your deductibles higher.
Staying on Your Parents' Car Insurance Policy
If you're an 18-year-old driver who still lives at home, staying on your parent's car insurance policy is always more affordable than purchasing your own policy. According to ValuePenguin, these are the average car insurance rates for teen drivers and their parents:
Parents' policy – $2698 a year
Parents' policy with teen added – $5178 a year
Separate policy for a teen driver – $7178 a year
Average Cost of Car Insurance by Company
Depending on what insurance company an 18-year-old driver purchases car insurance from, they can expect to pay more or less than drivers in their age group. According to CarInsurance.com, these are the average insurance rates that the leading insurance companies charge 18-year-old drivers:
Allstate – $2700 for a six-month premium/$450 a month
American Family – $1485 for a six-month premium/$247 a month
Farmers – $2492 for a six-month premium/$415 a month
GEICO -$1414 for a six-month premium/$236 a month
Liberty Mutual – $2660 for a six-month premium/$443 a month
Nationwide – $1731 for a six-month premium/$288 a month
Progressive – $2537 for a six-month premium/$423 a month
State Farm – $1591 for a six-month premium/$265 a month
Travelers – $1521 for a six-month premium/$253 a month
USAA – $1410 for a six-month premium/$237 a month
How to Save Money on Car Insurance
While 18-year-old drivers can't avoid paying higher rates than older drivers, there are ways they can save money on their car insurance costs. If you're leaving your parents' insurance policy and buying your own policy, the best thing you can do is shop around. Each insurance company has its own formula for calculating rates, so some companies are more affordable.
ValuePenguin suggests that you drive a more affordable vehicle. The less your car costs, the less likely your insurance company will consider it a risk to insure. If you have full coverage, you might want to increase your deductible. Insurance companies correlate insurance rates with deductibles, so the higher your deductible, the lower your premium.
According to The Zebra, you should also see if your insurance company offers the following discounts:
Good Student Discount – Many car insurance companies offer a good student discount for high school and college students who maintain a 3.0 GPA or higher. You'll have to provide your car insurance provider with your transcript or report card to qualify.
Defensive Driving Discount – This discount is also common in the car insurance industry. To qualify, you'll have to complete a defensive driving course and provide proof of completion to your insurance company.
Away-at-School Discount – Some car insurance companies provide a discount for students who are away at school instead of living at home.
Safe Driver Discount – If your insurance company offers a discount for safe driving, you'll have to use a plug-in device or mobile app to track your driving. The device monitors driving habits such as how hard you apply the brakes and how fast you drive.
Now that you know what car insurance options are available for 18-year-old drivers, you can decide what type of policy is right for you.
Sources:
Finding the Cheapest Car Insurance for Teen Drivers
Best Car Insurance For 18-Year-Olds In 2021
Car Insurance Costs for 18-Year-Old Males and Females
The Best Car Insurance for 18-Year-Olds
Which Gender Pays More for Car Insurance?
Average Car Insurance Deductible: Everything You Need to Know
This content is created and maintained by a third party, and imported onto this page to help users provide their email addresses. You may be able to find more information about this and similar content at piano.io