View Photos of the 2022 Mitsubishi Eclipse Cross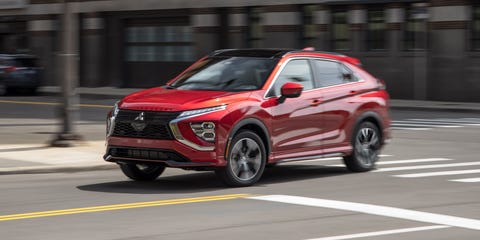 Michael SimariCar and Driver
Mitsubishi's Eclipse Cross compact crossover embraces the trendy raked-roof shape that evokes sporting pretensions, but its 1.5-liter four-cylinder is decidedly milquetoast. An unusually thorough mid-cycle refresh adds space but can't quite vault the Mitsubishi to relevance.
Read the full review
1 of 37
With an extra 5.6 inches of length, most of which is added behind the rear axle, the Eclipse Cross gains some useful cargo capacity.
2 of 37
Gone is the split rear window, replaced with a single pane of glass.
3 of 37
The new front end contributes to the length increase, and $110 "ECLIPSE CROSS" lettering across the hood seems like a nod to Range Rover aspirations.
4 of 37
With only 152 horsepower, the Mitsu needed 8.4 seconds to reach 60 mph.
5 of 37
Our 75-mph highway test netted 27 mpg, which beat the EPA's highway estimate but still isn't that impressive when you consider the competitive set.
6 of 37
The base price of $24,490 is reasonable, but options for the Eclipse Cross can add more than $10,000 to that.
7 of 37
The new interior design gets rid of the console touchpad in favor of an 8.0-inch touchscreen.
8 of 37
The rear seats recline, slide fore and aft, and have the option of heating.
9 of 37
A 0.76-g skidpad number speaks to indifferent handling.
10 of 37
The Eclipse Cross is quiet and offers a great ride, skewing toward designer imposter Range Rover rather than pint-size Porsche Macan.
11 of 37
2022 Mitsubishi Eclipse Cross
12 of 37
2022 Mitsubishi Eclipse Cross
13 of 37
2022 Mitsubishi Eclipse Cross
14 of 37
2022 Mitsubishi Eclipse Cross
15 of 37
2022 Mitsubishi Eclipse Cross
16 of 37
2022 Mitsubishi Eclipse Cross
17 of 37
2022 Mitsubishi Eclipse Cross
18 of 37
2022 Mitsubishi Eclipse Cross
19 of 37
2022 Mitsubishi Eclipse Cross
20 of 37
2022 Mitsubishi Eclipse Cross
21 of 37
2022 Mitsubishi Eclipse Cross
22 of 37
2022 Mitsubishi Eclipse Cross
23 of 37
2022 Mitsubishi Eclipse Cross
24 of 37
2022 Mitsubishi Eclipse Cross
25 of 37
2022 Mitsubishi Eclipse Cross
26 of 37
2022 Mitsubishi Eclipse Cross
27 of 37
2022 Mitsubishi Eclipse Cross
28 of 37
2022 Mitsubishi Eclipse Cross
29 of 37
2022 Mitsubishi Eclipse Cross
30 of 37
2022 Mitsubishi Eclipse Cross
Advertisement – Continue Reading Below
This content is created and maintained by a third party, and imported onto this page to help users provide their email addresses. You may be able to find more information about this and similar content at piano.io