View Photos of the 2022 Hyundai Elantra N Prototype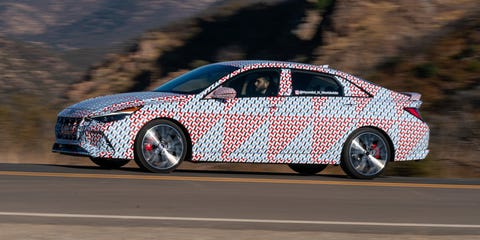 David Dewhurst
From its 276 horsepower to the track-ready chassis, the 2022 Elantra N is like a sedan version of the excellent Veloster N.
Read the full review
1 of 10
With the exception of their N-motif camouflage, both Elantra N prototypes we drove seem production ready.
2 of 10
Hidden beneath the wrap is a sizable rear spoiler, a tweaked front fascia, a new rear bumper with a diffuser, and pronounced rocker moldings. The front air dam is deep enough to grind on driveways.
3 of 10
Prototypes were wearing Pirelli P Zero PZ4 235/35R-19 summer tires with a 280 treadwear rating, which we're told will be on the production car.
4 of 10
Hard sustained runs on a mountain road fail to cook the 13.6-inch front and 12.4-inch rear brakes that are shared with the Veloster N.
5 of 10
Its 276-hp 2.0-liter turbo four, electronic limited slip differential, and adaptive dampers are shared with the Veloster N. The engine makes its full 289 pound-feet of torque at about 1500 rpm.
6 of 10
Nineteen-inch wheels, which feature an elaborate triangular pattern, will make it to production, and the two big exhaust pipes are exclusive to the N model.
7 of 10
Production versions with the dual-clutch automatic will get launch control, however, the system wasn't active on this particular prototype.
8 of 10
The Elantra N will offer a pair of transmissions: a standard six-speed manual with rev-matching capability and a dual-clutch eight-speed automatic also used in the 290-hp Sonata N Line.
9 of 10
Inside the sedan gets the same firm, properly bolstered sports seats, and the three-spoke steering wheel as the Veloster N. Five distinct driving modes are available.
10 of 10
The Elantra's new digital gauge cluster is clean and simple with two large dials—180-mph speedo on the left and an 8000-rpm tach on the right.
Advertisement – Continue Reading Below
This content is created and maintained by a third party, and imported onto this page to help users provide their email addresses. You may be able to find more information about this and similar content at piano.io