View Photos of the 2022 Genesis G70 3.3T AWD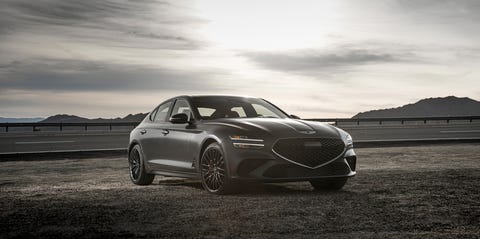 Genesis
Luxurious yet entertaining to drive, the Genesis G70 has impressed us since it debuted for 2019. For the 2022 model year, it gains a range of enhancements that better align it with the brand's newer G80 sedan and GV80 SUV.
Read the full review
1 of 26
Like lit-up cat whiskers, the new Genesis G70's horizontal headlights and taillights make it distinctive on the road, day or night.
2 of 26
The base G70 rolls on 18-inch wheels shod with all-season tires. Higher trims get 19-inch wheels with a choice of all-seasons or Michelin Pilot Sport 4 summer tires.
3 of 26
There are two carryover engine choices for the G70. The standard mill is a turbocharged 2.0-liter inline-four that makes 252 horsepower and 260 pound-feet of torque. A twin-turbo 3.3-liter V-6 with 365 horses and 375 pound-feet is optional. V-6 models also gain an optional active exhaust bumps the pony count to 368 when open in the Sport+ driving mode.
4 of 26
To prepare for any hooliganism, the G70 V-6's new Sport+ mode ups the idle by 250 rpm for a more responsive throttle.
5 of 26
The diamond pattern of the new shield grille is repeated around the exterior and interior of the car.
6 of 26
The 2022 G70 gets the same infotainment system as the G80 and GV80, with a larger-than-before 10.3-inch touchscreen.
7 of 26
The G70's driver-focused cockpit is heavily angled toward the driver, so much so that your front passenger might feel left out.
8 of 26
Genesis's adaptive cruise control can automatically adjust its speed for upcoming curves.
9 of 26
Rear-seat passengers won't enjoy the ride as much as front-seat riders. While head room in back is decent, foot space is terribly cramped.
10 of 26
The G70 no longer offers a manual-transmission option, but the eight-speed automatic has always been the better choice, and it least it's controlled by an actual shift lever instead of a dial or an array of buttons.
11 of 26
2022 Genesis G70 3.3T AWD
12 of 26
2022 Genesis G70 3.3T AWD
13 of 26
2022 Genesis G70 3.3T AWD
14 of 26
2022 Genesis G70 3.3T AWD
15 of 26
2022 Genesis G70 3.3T AWD
16 of 26
2022 Genesis G70 3.3T AWD
17 of 26
2022 Genesis G70 3.3T AWD
18 of 26
2022 Genesis G70 3.3T AWD
19 of 26
2022 Genesis G70 3.3T AWD
20 of 26
2022 Genesis G70 3.3T AWD
21 of 26
2022 Genesis G70 3.3T AWD
22 of 26
2022 Genesis G70 3.3T AWD
23 of 26
2022 Genesis G70 3.3T AWD
24 of 26
2022 Genesis G70 3.3T AWD
25 of 26
2022 Genesis G70 3.3T AWD
26 of 26
2022 Genesis G70 3.3T AWD
Advertisement – Continue Reading Below
This content is created and maintained by a third party, and imported onto this page to help users provide their email addresses. You may be able to find more information about this and similar content at piano.io