View Photos of the 2022 Audi RS e-tron GT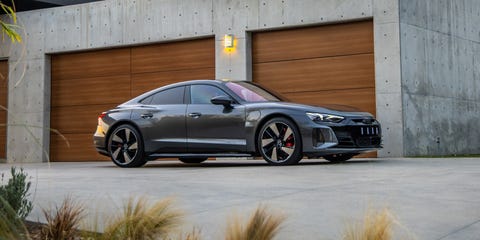 Audi
Audi's new electric e-tron GT borrows heavily from the Porsche Taycan and impresses in its mission to compete with Tesla in the big-money EV space. But it still has some catching up to do.
Read the full review
1 of 61
1. Audi e-tron GT models come standard with 20-inch wheels, with an option for a 21-inch upgrade.
2 of 61
Audi claims the shove to 60 mph will take just 3.1 seconds.
3 of 61
There are only two versions of the e-tron GT: The 522-hp e-tron GT ($100,945) and the 637-hp RS e-tron GT ($140,945).
4 of 61
The GT is quick and pleasant in Comfort mode and quicker—but still pleasant—in Sport mode. Changing modes adjusts accelerator response, brake regen, steering feel, suspension firmness, and sound. Any of these characteristics can be modified separately in the menu.
5 of 61
All-wheel steering is available in e-tron GT models as an option and standard in RS e-tron GT.
6 of 61
Audi has shared their plan to reach a 30 percent electrified portfolio by 2025, including fully electric vehicles and plug-in hybrids.
7 of 61
The heavy decklid houses an active rear wing with adjustable settings.
8 of 61
The Audi's shiny little shifter is pretty straightforward, but the Park and Park Assist buttons are confusingly placed and labeled.
9 of 61
The rear seats offer plenty of legroom but are less generous with headroom, and the middle seat is best used as an armrest.
10 of 61
Fans of techy interiors may find the e-tron GT a bit old-fashioned with its reasonable-sized screen and physical climate-control buttons.
Advertisement – Continue Reading Below
This content is created and maintained by a third party, and imported onto this page to help users provide their email addresses. You may be able to find more information about this and similar content at piano.io