View Photos of the 2022 Acura MDX SH-AWD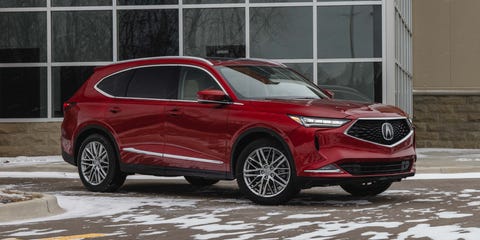 Michael SimariCar and Driver
Acura's push to reinvigorate its lineup with more driver-focused vehicles has already produced an impressive new TLX sports sedan. Next up is the brand's redesigned 2022 MDX, which brings much of the TLX's newfound athleticism to the three-row SUV segment.
Read the full review
1 of 46
The fourth-generation MDX rides on a new, stiffer platform that's about two inches longer and wider than before. At 113.8 inches, its wheelbase also is up nearly three inches.
2 of 46
Notable chassis improvements for the new MDX include a swap from a strut front suspension to a control-arm setup, plus a revised multilink rear suspension.
3 of 46
Despite curb weights increasing by 200 to 300 pounds, depending on the model, the MDX displays impressive responsiveness for a large, seven-seat vehicle.
4 of 46
A 290-hp 3.5-liter V-6 continues to power the MDX.
5 of 46
Combined with a 10-speed automatic transmission in place of the previous nine-speed, the V-6 should propel the new MDX to 60 mph in about six seconds.
6 of 46
The 2022 MDX's fuel economy suffers only slightly from its recent growth. EPA combined estimates of 22 mpg for front-wheel-drive models and 21 mpg with SH-AWD both are 1 mpg less than before.
7 of 46
As with Acura's latest TLX sports sedan, we're most excited for the MDX's upcoming Type S model, which will bring a 355-hp twin-turbo V-6 and larger brakes, wheels, and tires.
8 of 46
A 4.3-inch-longer dash-to-axle ratio gives the new MDX a longer hood and more classical rear-wheel-drive proportions.
9 of 46
The MDX's larger and much-improved cabin is highlighted by standard sport seats, a smaller, thicker-rimmed steering wheel, and bright 12.3-inch displays in the instrument cluster and center stack.
10 of 46
You don't have pick between a second-row bench seat or captain's chairs when configuring the new MDX, as its removable middle-row console/seat allows you to have both.
Advertisement – Continue Reading Below
This content is created and maintained by a third party, and imported onto this page to help users provide their email addresses. You may be able to find more information about this and similar content at piano.io