View Photos of the 2021 Toyota Camry Hybrid XLE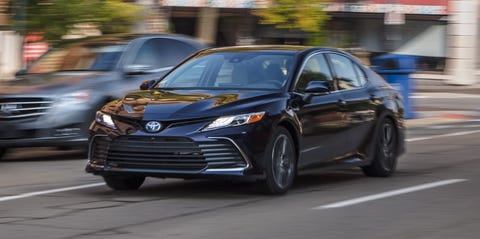 Michael SimariCar and Driver
The 2021 Toyota Camry hybrid may not raise anyone's pulse, but it does what great Camrys have done for generations and what has made it the best-selling sedan in the United States for nearly two decades.
Read the full review
1 of 34
The Camry makes use of a 2.5-liter inline-four and electric motor combo that pairs up to produce a combined 208 horsepower.
2 of 34
The Camry Hybrid earns an EPA-estimated 44 mpg in the city and 47 mpg on the highway.
3 of 34
The XLE trim features a new herringbone pattern in the leather seats.
4 of 34
A new 7- or 9-inch infotainment system is available for 2021.
5 of 34
Our test car's attractive Blueprint exterior color replaces the discontinued Bluestreak metallic.
6 of 34
The 2021 Camry Hybrid will be the first Toyota to feature the new Toyota Sense 2.5+ driver-assist technology.
7 of 34
Already the most affordable hybrid in its class, the 2021 Camry Hybrid receives a price decrease of $560.
8 of 34
2021 Toyota Camry hybrid XLE
9 of 34
2021 Toyota Camry hybrid XLE
10 of 34
2021 Toyota Camry hybrid XLE
11 of 34
2021 Toyota Camry hybrid XLE
12 of 34
2021 Toyota Camry hybrid XLE
13 of 34
2021 Toyota Camry hybrid XLE
14 of 34
2021 Toyota Camry hybrid XLE
15 of 34
2021 Toyota Camry hybrid XLE
16 of 34
2021 Toyota Camry hybrid XLE
17 of 34
2021 Toyota Camry hybrid XLE
18 of 34
2021 Toyota Camry hybrid XLE
19 of 34
2021 Toyota Camry hybrid XLE
20 of 34
2021 Toyota Camry hybrid XLE
21 of 34
2021 Toyota Camry hybrid XLE
22 of 34
2021 Toyota Camry hybrid XLE
23 of 34
2021 Toyota Camry hybrid XLE
24 of 34
2021 Toyota Camry hybrid XLE
25 of 34
2021 Toyota Camry hybrid XLE
26 of 34
2021 Toyota Camry hybrid XLE
27 of 34
2021 Toyota Camry hybrid XLE
28 of 34
2021 Toyota Camry hybrid XLE
29 of 34
2021 Toyota Camry hybrid XLE
30 of 34
2021 Toyota Camry hybrid XLE
Advertisement – Continue Reading Below
This content is created and maintained by a third party, and imported onto this page to help users provide their email addresses. You may be able to find more information about this and similar content at piano.io