View Photos of the 2021 Subaru Crosstrek Limited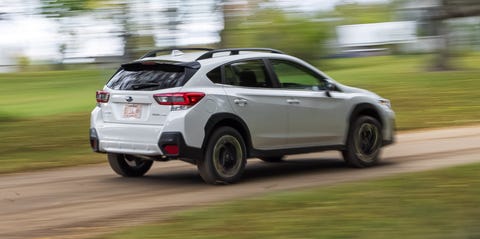 Michael SimariCar and Driver
Along with light aesthetic update, Subaru's Impreza-based Crosstrek gains an optional 2.5-liter boxer four for the 2021 model year. The new engine is reserved for Sport and Limited models and brings a sizable 30 additional horsepower over the base 2.0-liter four, but it can only be paired with a CVT transmission and does little to change the character of this subcompact crossover.
Read the full review
1 of 45
Sharing the engine with the Outback wagon and Forester SUV, the Crosstrek Sport and Limited's new 2.5-liter boxer-four produces 182 horsepower and 176 pound-feet of torque. That's 30 horsepower more than before.
2 of 45
All-wheel drive is standard on the Crosstrek, and power is sent to the wheels through a continuously variable automatic transmission (CVT). A six-speed manual is standard on models with the 2.0-liter engine.
3 of 45
The 2.5-liter boxer-four propelled the 2021 Crosstrek Limited to 60 mph in 7.5 seconds. That's 1.6 seconds quicker than the 2.0-liter did during our testing.
4 of 45
Subaru's EyeSight driver-assistance package, which includes adaptive cruise control and lane centering, is standard on Crosstreks equipped with the CVT.
5 of 45
For 2021, the Crosstrek not only receives the more powerful engine option, but it also gets a revised front end.
6 of 45
The Limited model comes equipped with leather seats with orange stitching, a leather-wrapped steering wheel, and an 8.0-inch infotainment system.
7 of 45
We observed 23 mpg in the 2.5-liter-equipped Crosstrek Limited, the same as the last 2.0-liter-powered car we tested.
8 of 45
The 2021 Subaru Crosstrek has 8.7 inches of ground clearance.
9 of 45
The 2021 Subaru Crosstrek is on sale now in the United States.
10 of 45
2021 Subaru Crosstrek Limited
11 of 45
2021 Subaru Crosstrek Limited
12 of 45
2021 Subaru Crosstrek Limited
13 of 45
2021 Subaru Crosstrek Limited
14 of 45
2021 Subaru Crosstrek Limited
15 of 45
2021 Subaru Crosstrek Limited
16 of 45
2021 Subaru Crosstrek Limited
17 of 45
2021 Subaru Crosstrek Limited
18 of 45
2021 Subaru Crosstrek Limited
19 of 45
2021 Subaru Crosstrek Limited
20 of 45
2021 Subaru Crosstrek Limited
21 of 45
2021 Subaru Crosstrek Limited
22 of 45
2021 Subaru Crosstrek Limited
23 of 45
2021 Subaru Crosstrek Limited
24 of 45
2021 Subaru Crosstrek Limited
25 of 45
2021 Subaru Crosstrek Limited
26 of 45
2021 Subaru Crosstrek Limited
27 of 45
2021 Subaru Crosstrek Limited
28 of 45
2021 Subaru Crosstrek Limited
29 of 45
2021 Subaru Crosstrek Limited
30 of 45
2021 Subaru Crosstrek Limited
Advertisement – Continue Reading Below
This content is created and maintained by a third party, and imported onto this page to help users provide their email addresses. You may be able to find more information about this and similar content at piano.io