View Photos of the 2021 Ram 1500 TRX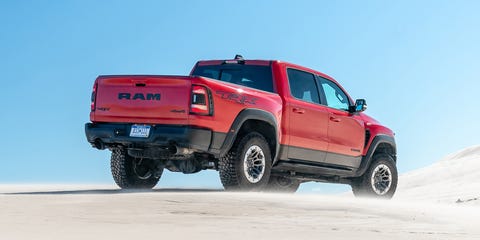 Marc UrbanoCar and Driver
The 2021 TRX builds upon the already great Ram 1500 pickup. Along with its awesome, 702-hp Hellcat V-8, the TRX has been fortified for extreme off-road duty with a strengthened frame and an extremely flexible long-travel suspension.
Read the full review
1 of 47
The 35-inch tall Goodyear Wrangler Territory AT tires perform impressively well in soft sand yet also are amazingly competent on a challenging paved road.
2 of 47
Bilstein adaptive dampers allow for a huge range of adjustment and are tailored to the TRX's various drive modes. Wheel travel is 13.0 inches in front and 14.0 inches in the rear.
3 of 47
The TRX is a hulking behemoth of a pickup truck, measuring 5.9 inches wider and 3.3 inches taller than the Ram 1500 crew cab on which it's based.
4 of 47
The TRX can tow a solid 8100 pounds.
5 of 47
The TRX's additional width necessitates extra running lights, with the front units neatly tucked into the functioning hood scoop.
6 of 47
The 702 horsepower from the familiar supercharged Hellcat 6.2-liter V-8 propels the TRX to 60 mph in an outrageously quick 3.7 seconds.
7 of 47
Our test truck's optional $995 bed-mounted spare tire is in addition to the standard full-size spare underneath the bed. Each wheel and tire assembly weighs 103 pounds.
8 of 47
The TRX inherits the Ram 1500's modern and luxurious interior, and all TRXs get a large 12.3-inch center touchscreen.
9 of 47
The TRX introduces a couple new features to the Ram 1500 lineup, including a head-up display and a backup camera mirror.
10 of 47
2021 Ram 1500 TRX Crew Cab 4×4
11 of 47
2021 Ram 1500 TRX Crew Cab 4×4
12 of 47
2021 Ram 1500 TRX Crew Cab 4×4
13 of 47
2021 Ram 1500 TRX Crew Cab 4×4
14 of 47
2021 Ram 1500 TRX Crew Cab 4×4
15 of 47
2021 Ram 1500 TRX Crew Cab 4×4
16 of 47
2021 Ram 1500 TRX Crew Cab 4×4
17 of 47
2021 Ram 1500 TRX Crew Cab 4×4
18 of 47
2021 Ram 1500 TRX Crew Cab 4×4
19 of 47
2021 Ram 1500 TRX Crew Cab 4×4
20 of 47
2021 Ram 1500 TRX Crew Cab 4×4
21 of 47
2021 Ram 1500 TRX Crew Cab 4×4
22 of 47
2021 Ram 1500 TRX Crew Cab 4×4
23 of 47
2021 Ram 1500 TRX Crew Cab 4×4
24 of 47
2021 Ram 1500 TRX Crew Cab 4×4
25 of 47
2021 Ram 1500 TRX Crew Cab 4×4
26 of 47
2021 Ram 1500 TRX Crew Cab 4×4
27 of 47
2021 Ram 1500 TRX Crew Cab 4×4
28 of 47
2021 Ram 1500 TRX Crew Cab 4×4
29 of 47
2021 Ram 1500 TRX Crew Cab 4×4
30 of 47
2021 Ram 1500 TRX Crew Cab 4×4
Advertisement – Continue Reading Below
This content is created and maintained by a third party, and imported onto this page to help users provide their email addresses. You may be able to find more information about this and similar content at piano.io