View Photos of the 2021 Mercedes-Benz E450 All-Terrain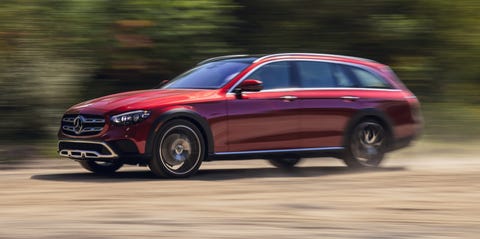 Michael SimariCar and Driver
Mercedes's E-class wagon got an SUV-inspired makeover for 2021 and now appears as the E450 All-Terrain. There's also a new powertrain under the hood, a 362-hp turbocharged 3.0-liter inline-six with a 48-volt hybrid system.
Read the full review
1 of 55
The E450 All-Terrain is about as luxe as ever inside, with open-pore wood, plenty of shiny black trim, and no shortage of ambient lighting.
2 of 55
Among the changes to the E450 wagon's exterior this year are a "power bulge" on the hood and plastic cladding meant to evoke an SUV.
3 of 55
The All-Terrain's 3.0-liter inline-six engine with 48-volt hybrid system is new this year and makes 362 horsepower.
4 of 55
The huge infotainment and gauge-cluster displays are made up of a pair of 12.3-inch screens. The infotainment display is touch capable, the gauge cluster is not.
5 of 55
The All-Terrain has chrome finish on its skid plate and grille slats. E-class sedans have a black finish on those trim pieces as standard.
6 of 55
All E-classes get a new steering wheel this year, which can be leather or a combination of leather and wood—ours was leather—and features touch-sensitive buttons to control the gauge cluster.
7 of 55
If equipped with the optional "interior assistant" feature, the touchscreen infotainment display can respond to various gestures made by the driver, including by recognizing where you might be about to touch the screen and highlighting those buttons.
8 of 55
Redesigned LED headlamps are standard across the E-class lineup this year. The taillamps have also been redesigned.
9 of 55
There are a handy 35 cubic feet of cargo space behind the rear seats, which should be plenty for the light errands most suburbanite owners will require of the All-Terrain.
10 of 55
Don't let the slightly more rugged exterior fool you: The All-Terrain is still full of creature comforts such as available massaging seats.
11 of 55
2021 Mercedes-Benz E450 4Matic All-Terrain
12 of 55
2021 Mercedes-Benz E450 4Matic All-Terrain
13 of 55
2021 Mercedes-Benz E450 4Matic All-Terrain
14 of 55
2021 Mercedes-Benz E450 4Matic All-Terrain
15 of 55
2021 Mercedes-Benz E450 4Matic All-Terrain
16 of 55
2021 Mercedes-Benz E450 4Matic All-Terrain
17 of 55
2021 Mercedes-Benz E450 4Matic All-Terrain
18 of 55
2021 Mercedes-Benz E450 4Matic All-Terrain
19 of 55
2021 Mercedes-Benz E450 4Matic All-Terrain
20 of 55
2021 Mercedes-Benz E450 4Matic All-Terrain
21 of 55
2021 Mercedes-Benz E450 4Matic All-Terrain
22 of 55
2021 Mercedes-Benz E450 4Matic All-Terrain
23 of 55
2021 Mercedes-Benz E450 4Matic All-Terrain
24 of 55
2021 Mercedes-Benz E450 4Matic All-Terrain
25 of 55
2021 Mercedes-Benz E450 4Matic All-Terrain
26 of 55
2021 Mercedes-Benz E450 4Matic All-Terrain
27 of 55
2021 Mercedes-Benz E450 4Matic All-Terrain
28 of 55
2021 Mercedes-Benz E450 4Matic All-Terrain
29 of 55
2021 Mercedes-Benz E450 4Matic All-Terrain
30 of 55
2021 Mercedes-Benz E450 4Matic All-Terrain
Advertisement – Continue Reading Below
This content is created and maintained by a third party, and imported onto this page to help users provide their email addresses. You may be able to find more information about this and similar content at piano.io