View Photos of the 2021 Mercedes-AMG E63 S Wagon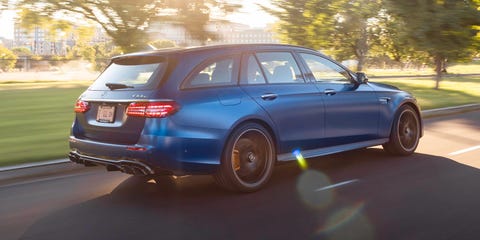 Mercedes-AMG
The 2021 Mercedes-AMG E63 S wagon is a rare and compelling mix of automotive rocketry and daily-use practicality. Roomy and luxurious as well as seriously quick, it is one of few mega-performance luxury wagons currently available. It's also exclusive: Only a few hundred E63 S wagons will be sold in the United States in the 2021 model year.
Read the full review
1 of 33
The E63 S wagon has serious performance chops; it shares its platform and major mechanical pieces with the stunning Mercedes-AMG GT63 S four-door coupe. The wagon's twin-turbocharged 4.0-liter V-8 makes 603 horsepower and 627 pound-feet of torque.
2 of 33
The E63 S wagon's standard twin-turbo 4.0-liter V-8 channels its output through an AMG-tune nine-speed automatic transmission and 4Matic+ all-wheel-drive system.
3 of 33
The E63 S wagon accelerates like a supercar. Our 4683-pound test car shot to 60 mph in 3.0 seconds and through the quarter-mile in 11.1 seconds at 122 mph. Top speed is electronically governed to 180 mph.
4 of 33
The E63 S wagon grabs on to the pavement with an impressive 1.00 g of skidpad grip.
5 of 33
The AMG-tuned 4Matic+ all-wheel-drive system includes Drift mode, which disconnects the front axle and sends all of the power to the rear, enabling tire-smoking drifts and burnouts— should you be willing to sacrifice the car's expensive Michelin Pilot Sport 4 S summer tires.
6 of 33
As with the rest of the E-class lineup, the E63 S wagon was given a light refresh for the 2021 model year. Changes for the wagon include the addition of Mercedes's latest MBUX infotainment system, a new AMG sport steering wheel, a new front bumper cover, and a toothy AMG GT-style grille with vertical slats.
7 of 33
The MBUX infotainment system is comprehensive yet complicated. It incorporates multiple menus and sub-menus that offer the driver a broad-range of control over almost all of the in-car experience.
8 of 33
The MBUX system can be controlled three ways: through the dash-mounted touchscreen, via the center-console touchpad, or by the plethora of steering-wheel controls.
9 of 33
The four spokes on the new AMG sport steering wheel are packed with small buttons and two touchpads that control the main MBUX touchscreen, the driver information display, and more. The wheel's touchpads proved overly sensitive and difficult to use.
10 of 33
The E63 S wagon's interior is handsome and luxuriously appointed, with standard items including heated armrests on the center console and front doors, a Burmester audio system, lighted doorsill plates, leather upholstery, and heated and ventilated front seats.
11 of 33
2021 Mercedes-AMG E63 S 4Matic+ wagon
12 of 33
2021 Mercedes-AMG E63 S 4Matic+ wagon
13 of 33
2021 Mercedes-AMG E63 S 4Matic+ wagon
14 of 33
2021 Mercedes-AMG E63 S 4Matic+ wagon
15 of 33
2021 Mercedes-AMG E63 S 4Matic+ wagon
16 of 33
2021 Mercedes-AMG E63 S 4Matic+ wagon
17 of 33
2021 Mercedes-AMG E63 S 4Matic+ wagon
18 of 33
2021 Mercedes-AMG E63 S 4Matic+ wagon
19 of 33
2021 Mercedes-AMG E63 S 4Matic+ wagon
20 of 33
2021 Mercedes-AMG E63 S 4Matic+ wagon
21 of 33
2021 Mercedes-AMG E63 S 4Matic+ wagon
22 of 33
2021 Mercedes-AMG E63 S 4Matic+ wagon
23 of 33
2021 Mercedes-AMG E63 S 4Matic+ wagon
24 of 33
2021 Mercedes-AMG E63 S 4Matic+ wagon
25 of 33
2021 Mercedes-AMG E63 S 4Matic+ wagon
26 of 33
2021 Mercedes-AMG E63 S 4Matic+ wagon
27 of 33
2021 Mercedes-AMG E63 S 4Matic+ wagon
28 of 33
2021 Mercedes-AMG E63 S 4Matic+ wagon
29 of 33
2021 Mercedes-AMG E63 S 4Matic+ wagon
30 of 33
2021 Mercedes-AMG E63 S 4Matic+ wagon
Advertisement – Continue Reading Below
This content is created and maintained by a third party, and imported onto this page to help users provide their email addresses. You may be able to find more information about this and similar content at piano.io