View Photos of the 2021 Mazda 3 2.5 Turbo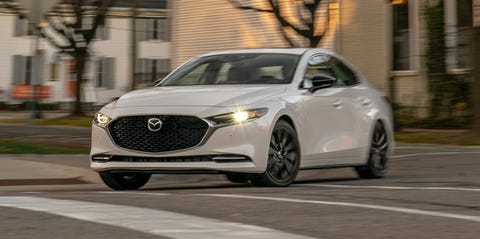 Marc UrbanoCar and Driver
The 2021 Mazda 3 2.5 Turbo gets the 250-hp 2.5-liter inline-four we've seen in other Mazda products. And if that engine can ably motivate a three-row crossover, which it does, imagine what it can do in a much smaller vehicle.
Read the full review
1 of 34
The 2.5 Turbo sedan ran from zero to 60 mph in 5.6 seconds, 0.2 seconds quicker than the first Mazdaspeed 3 we tested back in 2006.
2 of 34
With an as-tested price of $33,790, the 2.5 Turbo is way below the average price for a new car.
3 of 34
Mazda rates the 2.5-liter four-cylinder at 250 horsepower and 320 pound-feet of torque, as long as you use premium gas. Run on regular, and those numbers drop to 227 horsepower and 310 pound-feet.
4 of 34
Mazda says that even though output is lower using regular fuel, there's not much difference below 4,000 rpm.
5 of 34
With standard all-wheel drive, the 2.5 Turbo is way better at managing torque steer than the old Mazdaspeed 3 was.
6 of 34
The 2.5-liter has a lot of displacement and a high 10.5:1 compression ratio to help it feel responsive even when it's off boost.
7 of 34
Close a door, and the high-pitched sound it makes—not a thud—is one of the rare tells that this isn't an expensive car.
8 of 34
Like the non-turbo 3, the 2.5 Turbo sports a beautiful interior that shames many a more-expensive car.
9 of 34
We like the console scroll wheel but wish the infotainment system didn't require multiple steps to change a radio station.
10 of 34
The 3's skidpad number, 0.85 g, is both modest and consistent with the car's personality. More smooth cruiser than back-roads bomber.
11 of 34
2021 Mazda 3 Turbo AWD sedan
12 of 34
2021 Mazda 3 Turbo AWD sedan
13 of 34
2021 Mazda 3 Turbo AWD sedan
14 of 34
2021 Mazda 3 Turbo AWD sedan
15 of 34
2021 Mazda 3 Turbo AWD sedan
16 of 34
2021 Mazda 3 Turbo AWD sedan
17 of 34
2021 Mazda 3 Turbo AWD sedan
18 of 34
2021 Mazda 3 Turbo AWD sedan
19 of 34
2021 Mazda 3 Turbo AWD sedan
20 of 34
2021 Mazda 3 Turbo AWD sedan
21 of 34
2021 Mazda 3 Turbo AWD sedan
22 of 34
2021 Mazda 3 Turbo AWD sedan
23 of 34
2021 Mazda 3 Turbo AWD sedan
24 of 34
2021 Mazda 3 Turbo AWD sedan
25 of 34
2021 Mazda 3 Turbo AWD sedan
26 of 34
2021 Mazda 3 Turbo AWD sedan
27 of 34
2021 Mazda 3 Turbo AWD sedan
28 of 34
2021 Mazda 3 Turbo AWD sedan
29 of 34
2021 Mazda 3 Turbo AWD sedan
30 of 34
2021 Mazda 3 Turbo AWD sedan
Advertisement – Continue Reading Below
This content is created and maintained by a third party, and imported onto this page to help users provide their email addresses. You may be able to find more information about this and similar content at piano.io