View Photos of the 2021 Lincoln Navigator Black Label Special Edition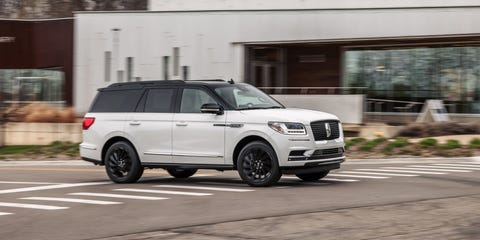 Michael SimariCar and Driver
After three years on the market, the Lincoln Navigator still seems fresh. And while the dark-wheels-and-trim look has been around for years, Lincoln is just now applying it to its Black Label flagship model.
Read the full review
1 of 40
The 2020 model year brought the dark-trim package to Navigator Reserve models. It was popular enough that Lincoln adopted its wheels and grille to the top Black Label model and called it the Special Edition package.
2 of 40
The Special Edition treatment costs $6695 on a Black Label model where it also includes a black-painted roof, a feature not included on the similar $3270 option on the Reserve trim.
3 of 40
In addition to the Black Label's full roster of luxe options, the Special Edition brings black wheels, darkened mirrors and grille, and some de-glitzing of trim.
4 of 40
You can't get a Special Edition with black paint, presumably because Lincoln is saving that look for an upcoming Midnight Edition.
5 of 40
Despite now being the oldest among full-size domestic luxury SUVs, the Navigator is still the quickest, running to 60 mph in 5.2 seconds—quick enough to beat the Cadillac Escalade's 5.9-second sprint. We suspect it might be enough to dust the new Jeep Grand Wagoneer, too.
6 of 40
With its 13.8-second quarter-mile pass at 100 mph, our Navigator Special Edition also outran the last Ford Raptor we tested, which shares its twin-turbo 3.5-liter V-6 and 10-speed automatic transmission with the Lincoln.
7 of 40
Lest you think the Navigator Special Edition is a sly performance model, its 182-foot stop from 70 mph and 0.76 g of skidpad grip are solidly average.
8 of 40
Black Label Navigators already come with all the goodies, so the only real options are the $2000 rear-seat entertainment system and $250 inflatable rear seatbelts. Base price without those items: $99,420.
9 of 40
Available Black Label interior themes include Chalét and Yacht Club, the latter of which brings blue leather and white teak wood trim.
10 of 40
While Lincoln is just jumping on the black-wheels bandwagon, we created this look for ourselves back in 2014 with a Lincoln MKT and a few cans of Plasti Dip. This approach cost somewhat less than $6695.
11 of 40
2021 Lincoln Navigator Black Label Special Edition
12 of 40
2021 Lincoln Navigator Black Label Special Edition
13 of 40
2021 Lincoln Navigator Black Label Special Edition
14 of 40
2021 Lincoln Navigator Black Label Special Edition
15 of 40
2021 Lincoln Navigator Black Label Special Edition
16 of 40
2021 Lincoln Navigator Black Label Special Edition
17 of 40
2021 Lincoln Navigator Black Label Special Edition
18 of 40
2021 Lincoln Navigator Black Label Special Edition
19 of 40
2021 Lincoln Navigator Black Label Special Edition
20 of 40
2021 Lincoln Navigator Black Label Special Edition
21 of 40
2021 Lincoln Navigator Black Label Special Edition
22 of 40
2021 Lincoln Navigator Black Label Special Edition
23 of 40
2021 Lincoln Navigator Black Label Special Edition
24 of 40
2021 Lincoln Navigator Black Label Special Edition
25 of 40
2021 Lincoln Navigator Black Label Special Edition
26 of 40
2021 Lincoln Navigator Black Label Special Edition
27 of 40
2021 Lincoln Navigator Black Label Special Edition
28 of 40
2021 Lincoln Navigator Black Label Special Edition
29 of 40
2021 Lincoln Navigator Black Label Special Edition
30 of 40
2021 Lincoln Navigator Black Label Special Edition
Advertisement – Continue Reading Below
This content is created and maintained by a third party, and imported onto this page to help users provide their email addresses. You may be able to find more information about this and similar content at piano.io