View Photos of the 2021 Lexus ES250 AWD F Sport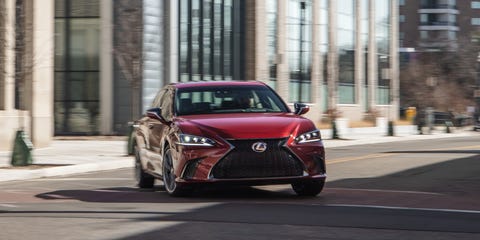 Michael SimariCar and Driver
While displacement-based vehicle nomenclature is increasingly nonsensical—a BMW M340i doesn't have a 4.0-liter engine, for example—Lexus keeps it literal with its new ES250 AWD model. As in the all-wheel-drive Toyota Camry and Avalon, the ES250 gains the additional traction of four driven wheels and is powered solely by a 2.5-liter four-cylinder making 203 horses.
Read the full review
1 of 42
The ES250 returns after a 29-year hiatus and, for the first time, with a four-cylinder.
2 of 42
Losing two cylinders balloons the ES's 60-mph time from 6.0 seconds to 8.1 seconds.
3 of 42
An as-tested price of $53,500 makes the ES250 more than twice as expensive as a Camry LE.
4 of 42
The ES250 is the same size (really, much the same car) as the Toyota Avalon.
5 of 42
The 2.5-liter four makes 203 horsepower and is less refined than the V-6 in the ES350.
6 of 42
Prices for the ES250 AWD start at $41,025. That's the same price as a base, front-drive ES350.
7 of 42
The ES250 interior is one of the more comfortable cabins in the business.
8 of 42
EPA fuel economy is three miles per gallon better than the ES350 F-Sport—25 mpg city and 34 mpg highway.
9 of 42
Back in 1990, the ES250 V-6 made only 156 horsepower. So, progress.
10 of 42
The F-Sport package seems out of place on an ES but brought handsome wheels, anyway.
11 of 42
2021 Lexus ES250 AWD F Sport
12 of 42
2021 Lexus ES250 AWD F Sport
13 of 42
2021 Lexus ES250 AWD F Sport
14 of 42
2021 Lexus ES250 AWD F Sport
15 of 42
2021 Lexus ES250 AWD F Sport
17 of 42
2021 Lexus ES250 AWD F Sport
18 of 42
2021 Lexus ES250 AWD F Sport
19 of 42
2021 Lexus ES250 AWD F Sport
20 of 42
2021 Lexus ES250 AWD F Sport
21 of 42
2021 Lexus ES250 AWD F Sport
22 of 42
2021 Lexus ES250 AWD F Sport
23 of 42
2021 Lexus ES250 AWD F Sport
24 of 42
2021 Lexus ES250 AWD F Sport
25 of 42
2021 Lexus ES250 AWD F Sport
26 of 42
2021 Lexus ES250 AWD F Sport
27 of 42
2021 Lexus ES250 AWD F Sport
28 of 42
2021 Lexus ES250 AWD F Sport
29 of 42
2021 Lexus ES250 AWD F Sport
30 of 42
2021 Lexus ES250 AWD F Sport
Advertisement – Continue Reading Below
This content is created and maintained by a third party, and imported onto this page to help users provide their email addresses. You may be able to find more information about this and similar content at piano.io