View Photos of the 2021 Jeep Gladiator EcoDiesel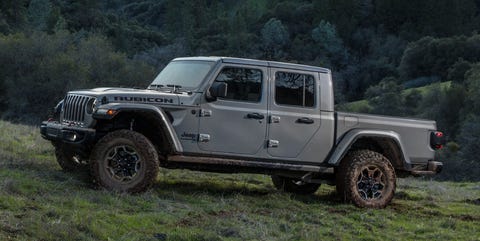 Jeep
Jeep's Gladiator pickup loses some refinement and towing capacity in its new-for-2021 diesel conversion, but its enhanced fuel economy and range will take you deeper into the wilderness.
Read the full review
1 of 12
Exterior changes for the Gladiator EcoDiesel are limited to small badge on its tailgate. Its exhaust also moves from the left to the right side of the truck.
2 of 12
As it is in the Wrangler Unlimited, the turbocharged 3.0-liter V-6 is rated for 260 horsepower at 3600 rpm and 442 pound-feet of torque at just 1400 rpm.
3 of 12
Due to the cooling restrictions of Jeep's signature seven-slot grille, the diesel drops the Gladiator's tow rating from 7650 pounds to 6500.
4 of 12
For durability, the diesel is only paired with the Gladiator's more robust ZF 8HP75 eight-speed automatic transmission and the Rubicon model's tougher Dana 44 axles with 3.73:1 gears.
5 of 12
The EcoDiesel powertrain adds about 400 pounds to the Gladiator, which dictated a retuning of its suspension. Ride quality and off-road ability don't suffer, however.
6 of 12
The EcoDiesel is noisier than the standard gas V-6. To reduce noise, Jeep adds sound-deadening material on the hot side of the firewall and foam on the backside of the infotainment screen.
7 of 12
The diesel's greater fuel economy and range are its greatest selling points. The EPA gives it a 24-mpg combined estimate, and its potential highway range is more than 500 miles.
8 of 12
Jeep anticipates 15 percent of Gladiator buyers will choose the truck's new Ecodiesel V-6, which costs an additional $4000 and requires the $2000 automatic transmission option.
9 of 12
With so much bottom-end torque, our Rubicon test vehicle chugged up steep hills and over frame-twisting obstacles with the EcoDiesel lumbering along at less than 2500 rpm.
10 of 12
2021 Jeep Gladiator Rubicon
11 of 12
2021 Jeep Gladiator Rubicon
12 of 12
2021 Jeep Gladiator Rubicon
Advertisement – Continue Reading Below
This content is created and maintained by a third party, and imported onto this page to help users provide their email addresses. You may be able to find more information about this and similar content at piano.io