View Photos of the 2021 Hyundai Veloster N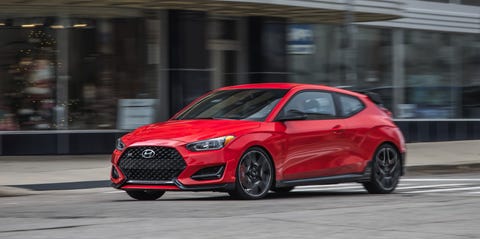 Michael SimariCar and Driver
We like our manual transmissions, especially in hot hatchbacks such as the Hyundai Veloster N. But there's no denying the added quickness that comes with the fiery Veloster's new eight-speed dual-clutch automatic option, which accompanies the fitment of new performance seats and infotainment upgrades for the 2021 model year.
read the full review
1 of 45
With the automatic and several other upgrades for 2021, the Veloster N is nearly 100 pounds heavier than before, necessitating a retuning of its suspension. The resulting setup maintains the Veloster's playful road manners but slightly stiffens its baseline ride quality.
2 of 45
The Veloster N's engine produces 260 pound-feet of torque, but the automatic adds an overboost feature that ups the output to 278 pound-feet for 20 seconds.
3 of 45
The automatic Veloster N's 4.8-second zero-to-60-mph time makes it 0.4 second quicker than the manual version and the quickest front-wheel-drive car we've ever tested.
4 of 45
A six-speed manual transmission remains standard, but the 2021 Veloster N gains a $1500 eight-speed dual-clutch automatic option.
5 of 45
New performance seats with illuminated N logos also are new for 2021. They're far more comfortable and supportive than the previous seats, and they look great.
6 of 45
The Veloster N's 8.0-inch center touchscreen now features Hyundai's latest infotainment interface, as well as an updated display for the car's many performance settings.
7 of 45
The Veloster N's previously optional $2100 Performance package is now standard equipment. Its highlight is a 25-hp boost for the car's turbo-four engine (for a total of 275 horses), but it also adds an electronically controlled limited-slip differential and bigger brakes, wheels, and tires.
8 of 45
The 2021 Hyundai Veloster N continues to be powered by a rorty turbocharged 2.0-liter inline-four.
9 of 45
Despite the automatic's additional gears, the dual-clutch Veloster N's 22-mpg combined EPA estimate is less than the manual version's 25 mpg.
10 of 45
Due to the added standard equipment, which also includes several active-safety systems, the 2021 Veloster N's base price is now $33,245—an increase of $4650 over the 2020 model.
23 of 45
2021 Hyundai Veloster N interior
27 of 45
2021 Hyundai Veloster N interior
28 of 45
2021 Hyundai Veloster N interior
29 of 45
2021 Hyundai Veloster N shifter
30 of 45
2021 Hyundai Veloster N touchscreen display
Advertisement – Continue Reading Below
This content is created and maintained by a third party, and imported onto this page to help users provide their email addresses. You may be able to find more information about this and similar content at piano.io