View Photos of the 2021 Hyundai Sonata N Line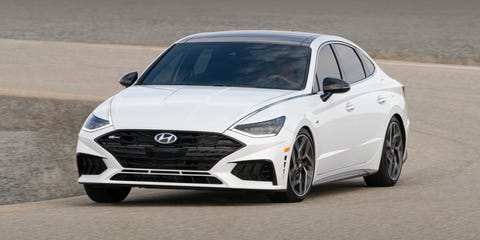 Hyundai
Its N performance division has created Hyundai's most powerful sedan, the 2021 Hyundai Sonata N Line. It's the first performance version of the brand's popular mid-size sedan, and it's looking to steal some budget-minded enthusiasts from the Honda Accord Sport, Mazda 6, and Toyota Camry TRD.
Read the full review
1 of 42
Unlike TRD, which has dressed the Camry fast and furiously, Hyundai has taken a more conservative path while still following the sports-sedan dress code.
2 of 42
New front fascia is very tasteful with a black grille and three large air intakes.
3 of 42
Thankfully, Hyundai didn't bolt on a big rear wing. Its rump is redressed with four exhaust pipes, a black lower bumper, and a diffuser.
4 of 42
All season tires are standard, but for $200 buyers can choose Continental Premium Contact 6 summer tires sized 245/40R-19.
5 of 42
Under the hood is a turbocharged version of the Sonata's standard 2.5-liter inline-four pumping out 290 horsepower at 5800 rpm and a burly 311 pound-feet of torque at just 1650 rpm.
6 of 42
Hyundai has also fitted its new wet dual-clutch eight-speed automatic transmission, and this is the only Sonata with launch control.
7 of 42
Its 19-inch wheels have a complex 20-spoke design and hide larger 13.6-inch front and 12.8-inch rear brake rotors.
8 of 42
The Sonata's push-button shifter remains. N Line bits are limited to a proper set of sports seats wrapped in leather and suede.
9 of 42
Standard features include a digital gauge cluster with simple round dials, a big 10.25-inch infotainment touchscreen, and a panoramic sunroof.
10 of 42
At a base price of $34,195, it isn't the cheapest option in the class, but it's a strong value.
11 of 42
2021 Hyundai Sonata N Line
12 of 42
2021 Hyundai Sonata N Line
13 of 42
2021 Hyundai Sonata N Line
14 of 42
2021 Hyundai Sonata N Line
15 of 42
2021 Hyundai Sonata N Line
16 of 42
2021 Hyundai Sonata N Line
17 of 42
2021 Hyundai Sonata N Line
18 of 42
2021 Hyundai Sonata N Line
19 of 42
2021 Hyundai Sonata N Line
20 of 42
2021 Hyundai Sonata N Line
21 of 42
2021 Hyundai Sonata N Line
22 of 42
2021 Hyundai Sonata N Line
23 of 42
2021 Hyundai Sonata N Line
24 of 42
2021 Hyundai Sonata N Line
25 of 42
2021 Hyundai Sonata N Line
26 of 42
2021 Hyundai Sonata N Line
27 of 42
2021 Hyundai Sonata N Line
28 of 42
2021 Hyundai Sonata N Line
29 of 42
2021 Hyundai Sonata N Line
30 of 42
2021 Hyundai Sonata N Line
Advertisement – Continue Reading Below
This content is created and maintained by a third party, and imported onto this page to help users provide their email addresses. You may be able to find more information about this and similar content at piano.io