View Photos of the 2021 Hyundai Elantra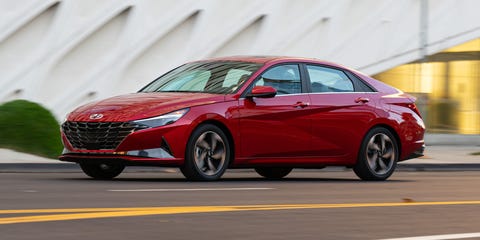 Hyundai
The new 2021 Hyundai Elantra combines edgy design with a larger interior and improved road manners to take on the best-selling Honda Civic and Toyota Corolla in the compact-sedan segment.
Read the full review
1 of 28
The new Elantra's radical redesign may turn off some traditional buyers, but it's a risk Hyundai is willing to take.
2 of 28
At 184.1 inches, it's 2.2 inches longer than before and nearly two inches longer than the best-selling Honda Civic.
3 of 28
At 107.1 inches, the Elantra has the longest wheelbase in the compact-sedan segment.
4 of 28
The Elantra's naturally aspirated 147-hp 2.0-liter inline-four powers its front tires through a standard continuously variable automatic transmission (CVT).
5 of 28
The Elantra SE's EPA estimates of 33 mpg city, 43 mpg highway, and 37 mpg combined are right where they need to be in this class. Pricier SEL and Limited models take a 2-mpg hit in all three EPA fuel-economy measures.
6 of 28
Hyundai also took some risks with the Elantra's interior, such as the oversized grab handle on the passenger side of the center console.
7 of 28
The 10.3-inch touchscreen and customizable ambient lighting are reserved for the Elantra's top-of-the-line Limited model, which starts at $26,445.
8 of 28
The base Elantra SE model, which starts at $20,645, gets an 8.0-inch touchscreen and wireless Apple CarPlay and Android Auto.
9 of 28
A new digital gauge cluster is optional on the Elantra SEL and standard on the Limited.
Advertisement – Continue Reading Below
This content is created and maintained by a third party, and imported onto this page to help users provide their email addresses. You may be able to find more information about this and similar content at piano.io