View Photos of the 2021 GMC Canyon AT4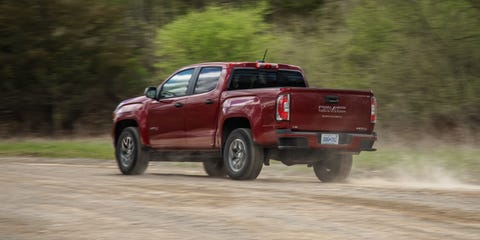 Michael SimariCar and Driver
The GMC Canyon AT4, new for 2021, brings 31-inch Goodyear Wrangler DuraTrac tires, an electronically controlled locking rear differential, and a transfer case skid plate.
Read the full review
1 of 38
The AT4 costs $1100 more than the Canyon's Elevation trim and is functionally similar except for its aggressive Goodyear off-road tires.
2 of 38
Opt for the Performance Edition and GMC claims the AT4's front approach angle improves by 30 percent. Most of that is probably thanks to the deletion of the front chin spoiler.
3 of 38
The Performance Edition also gets a front-end leveling kit that raises the nose by an inch, along with some additional underbody armor and rock rails beneath the doors.
4 of 38
The AT4 comes standard with General Motors's 308-hp 3.6-liter V-6, which returned a zero-to-60-mph time of 6.7 seconds in our testing.
5 of 38
The Canyon's interior is looking a little aged—check the ignition that requires a physical key—but it does have wireless phone charging.
6 of 38
The Canyon's selector knobs for the headlights and four-wheel-drive system are right next to each other and look and feel identical. What could go wrong?
7 of 38
The AT4's 0.74 g grip figure on the skidpad underscores the fact that it's hard to simultaneously optimize a vehicle for both for mud and pavement.
8 of 38
Fortunately, the Canyon AT4's center differential allows automatic four-wheel-drive engagement for automatic, which navigates pavement without binding up the front axle. That's helpful when getting off the line in the rain.
9 of 38
The AT4 is also available with a 181-hp 2.8-liter turbo-diesel, but it's nearly $5000 more expensive and a lot slower.
10 of 38
With a base price of $39,395, the Canyon AT4 is a nice deal. However, adding the $3195 Performance Edition package does push it uncomfortably close to the price of a Colorado ZR2.
Advertisement – Continue Reading Below
This content is created and maintained by a third party, and imported onto this page to help users provide their email addresses. You may be able to find more information about this and similar content at piano.io