View Photos of the 2021 Genesis G80 RWD 2.5T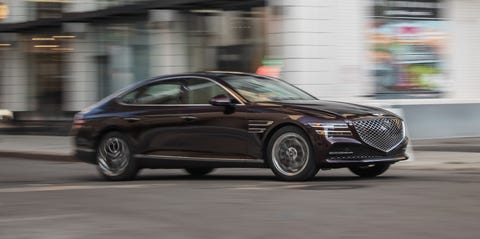 Michael SimariCar and Driver
The 2021 Genesis G80 is new from the tires up. Beautifully crafted on the company's new M3 rear-wheel-drive architecture, it finally has everything required to go wheel to wheel with the likes of the Audi A6, BMW 5-series, and Mercedes-Benz E-class. It also remains a compelling value that costs thousands less than its direct competitors.
Read the full review
1 of 49
The G80 offers two engines—a 300-hp turbocharged 2.5-liter inline-four and a 375-hp twin-turbo 3.5-liter V-6—both of which are mated to eight-speed automatic transmissions.
2 of 49
The G80 is based on Genesis's new M3 rear-wheel-drive architecture. The platform enables both rear- and all-wheel drive and also underpins the new GV80 SUV.
3 of 49
Genesis claims that the G80's increased use of high-strength steel and aluminum reduced the weight of its body in white by 243 pounds over the previous-generation model.
4 of 49
The G80's sleek four-door body doesn't have a bad line on it and features such details as thin, wraparound headlamps and matching running lamps on the sides of the front fenders.
5 of 49
The G80's interior is a stunningly fresh design incorporating luxurious materials and upscale finishes, such as knurling on the rotary shifter and circular infotainment controller.
6 of 49
The G80 features an ultrawide 14.5-inch infotainment screen with colorful graphics.
7 of 49
Want to relax while you're waiting in the parking lot to pick up your takeout? Tune in to one of the many calming nature soundtracks that are programmed into the infotainment system.
8 of 49
The G80 underscores its luxurious intent with hushed operation. It tiptoes away from rest in near silence and whispers down the highway. Our sound meter registered just 66 decibels of noise inside at 70 mph, the same reading we recorded in a Bentley Flying Spur.
9 of 49
The 300-hp 2.5-liter turbo-four propelled our 4143-pound G80 test car to 60 mph in 5.7 seconds.
10 of 49
The G80 represents a towering value with a $48,725 base price. Our fully loaded test car came in at a reasonable $58,025.
Advertisement – Continue Reading Below
This content is created and maintained by a third party, and imported onto this page to help users provide their email addresses. You may be able to find more information about this and similar content at piano.io