View Photos of the 2021 Ford Bronco Sport Badlands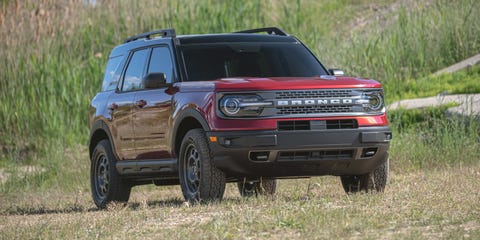 Marc UrbanoCar and Driver
That Ford's new Bronco Sport can be easily mistaken for the real-deal Bronco will be enough for many buyers. But in top-spec Badlands trim, the baby Bronco has the goods to be even better than we expected when the pavement ends.
Read the full review
1 of 46
With its cool retro lines and BRONCO lettering emblazoned on its grille, it's easy for some to mistake the smaller Bronco Sport for the big-dog Bronco.
2 of 46
To compete with the Jeep Compass and Cherokee, the Bronco Sport is built on Ford's C2 front-wheel-drive platform, which also underpins the Escape crossover.
3 of 46
The Bronco Sport's boxy silhouette and muscular wheel-well flares lend it presence at the curb, but it's actually about the same size as a Jeep Compass, except for the Bronco Sport's significantly taller roofline.
4 of 46
Like the original Bronco from the 1960s and 1970s, the Bronco Sport's rear window opens separately from its hatch, which is a unique feature in its class.
5 of 46
A rotary shift dial borrowed from the Escape is one of the few interior bits we could do without in the Bronco Sport. A conventional shift lever would have been a better fit for its rugged design.
6 of 46
All Bronco Sports feature all-wheel drive as standard, but the Badlands has a torque-vectoring rear differential that borrows tech from the Focus RS hot hatchback.
7 of 46
Badlands models also get unique suspension tuning with about an inch more ground clearance than lesser trims.
8 of 46
Our test car wore optional 29-inch-tall Falken Wildpeak all-terrain tires, sized 235/65R-17.
9 of 46
The Bronco Sport's optional 17-inch wheels have a cool, old-school appearance.
10 of 46
Most Bronco Sports are powered by a 181-hp turbocharged three-cylinder, but the Bandlands gets a 2.0-liter turbo-four with 250 horsepower and a substantial 277 pound-feet of torque.
11 of 46
2021 Ford Bronco Sport Badlands
12 of 46
2021 Ford Bronco Sport Badlands
13 of 46
2021 Ford Bronco Sport Badlands
14 of 46
2021 Ford Bronco Sport Badlands
15 of 46
2021 Ford Bronco Sport Badlands
16 of 46
2021 Ford Bronco Sport Badlands
17 of 46
2021 Ford Bronco Sport Badlands
18 of 46
2021 Ford Bronco Sport Badlands
19 of 46
2021 Ford Bronco Sport Badlands
20 of 46
2021 Ford Bronco Sport Badlands
21 of 46
2021 Ford Bronco Sport Badlands
22 of 46
2021 Ford Bronco Sport Badlands
23 of 46
2021 Ford Bronco Sport Badlands
24 of 46
2021 Ford Bronco Sport Badlands
25 of 46
2021 Ford Bronco Sport Badlands
26 of 46
2021 Ford Bronco Sport Badlands
27 of 46
2021 Ford Bronco Sport Badlands
28 of 46
2021 Ford Bronco Sport Badlands
29 of 46
2021 Ford Bronco Sport Badlands
30 of 46
2021 Ford Bronco Sport Badlands
Advertisement – Continue Reading Below
This content is created and maintained by a third party, and imported onto this page to help users provide their email addresses. You may be able to find more information about this and similar content at piano.io