View Photos of the 2021 Dodge Durango SRT 392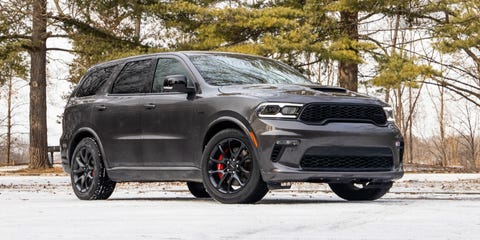 Andi HedrickCar and Driver
1 of 42
All 2021 Durangos receive updated exterior styling, including a new front bumper, grille, and headlights.
2 of 42
The SRT 392 model's centerpiece continues to be a 475-hp 6.4-liter Hemi V-8.
3 of 42
All Durango models feature a smartly tuned eight-speed automatic transmission. SRT models get standard all-wheel drive, which can route up to 70 percent of the engine's torque to the rear wheels in Track mode.
4 of 42
Despite weighing a porky 5457 pounds, our test truck hit 60 mph in 4.1 seconds and covered the quarter-mile in 12.7 seconds at 106 mph.
5 of 42
The Durango SRT sacrifices little utility for its performance. When properly equipped, it can tow up to 8700 pounds—more than some larger full-size SUVs.
6 of 42
Unsurprisingly, fuel economy is not the SRT 392's strong suit. Our truck averaged a mere 13 mpg while in our care, on par with its EPA city estimate.
7 of 42
The Durango SRT 392's case is bolstered by its relatively reasonable $64,490 base price, which significantly undercuts the entry fee of any three-row SUV that is remotely as quick and fun to drive.
8 of 42
Reinforcing the SRT 392 model's sporting character is a no-cost Lightweight Performance option, which deletes the third row of seats and replaces the standard second-row captain's chairs with a three-across bench seat.
9 of 42
Interior updates for 2021 include a new instrument panel, center console, and door panel inserts, plus a revised Uconnect 5 infotainment system. SRT models feature a standard 10.1-inch center touchscreen.
10 of 42
Nicer materials dot the 2021 Durango's interior, which helps counter the fact that the current, third-generation truck has been on sale for a decade.
11 of 42
2021 Dodge Durango SRT 392
12 of 42
2021 Dodge Durango SRT 392
13 of 42
2021 Dodge Durango SRT 392
14 of 42
2021 Dodge Durango SRT 392
15 of 42
2021 Dodge Durango SRT 392
16 of 42
2021 Dodge Durango SRT 392
17 of 42
2021 Dodge Durango SRT 392
18 of 42
2021 Dodge Durango SRT 392
19 of 42
2021 Dodge Durango SRT 392
20 of 42
2021 Dodge Durango SRT 392
21 of 42
2021 Dodge Durango SRT 392
22 of 42
2021 Dodge Durango SRT 392
23 of 42
2021 Dodge Durango SRT 392
24 of 42
2021 Dodge Durango SRT 392
25 of 42
2021 Dodge Durango SRT 392
26 of 42
2021 Dodge Durango SRT 392
27 of 42
2021 Dodge Durango SRT 392
28 of 42
2021 Dodge Durango SRT 392
29 of 42
2021 Dodge Durango SRT 392
30 of 42
2021 Dodge Durango SRT 392
Advertisement – Continue Reading Below
This content is created and maintained by a third party, and imported onto this page to help users provide their email addresses. You may be able to find more information about this and similar content at piano.io