View Photos of the 2021 Dodge Charger Hellcat Redeye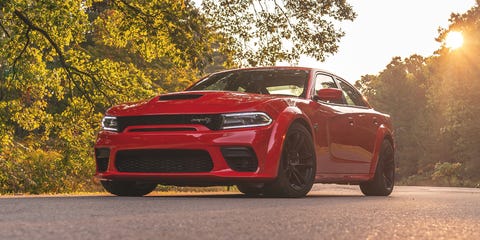 Marc UrbanoCar and Driver
For 2021, Dodge has given the Charger Hellcat the Redeye treatment, offering sinister looks, excessive horsepower, and more supercharger whine than anyone could ever want.
Read the full review
1 of 45
The Charger Hellcat Redeye uses a supercharged 6.2-liter V-8 that makes 797 horsepower and 707 pound-feet of torque.
2 of 45
It can be hard to pick the Redeye out from a crowd. You'll have to examine the fender badges and look for a red jewel in the eye of the Hellcat logo.
3 of 45
All Charger Hellcats—including the Redeye—come standard in Widebody form, making room for 11-inch-wide wheels wrapped in 305-width tires.
4 of 45
The Redeye uses the same technology from the SRT Demon—the SRT Power Chiller—to keep intake air temperatures cool, even on the hottest days.
5 of 45
Available in 13 vibrant colors with names such as Hellraisin, Go Mango, and Triple Nickel, all colors are a no-cost option.
6 of 45
With the Carbon and Suede Interior Package, the headliner is wrapped in Alcantara and the dashboard surround and gear selector surround are inlayed with real carbon fiber.
7 of 45
With the help of its new hood scoop, mail-slot grille opening, and cold-air intake, the Redeye flows 18 percent more air than the standard Hellcat.
8 of 45
Dodge claims the Charger Redeye is the fastest mass-produced four-door sedan in the world with a top speed of 203 mph.
9 of 45
2021 Dodge Charger Hellcat Redeye
10 of 45
2021 Dodge Charger Hellcat Redeye
11 of 45
2021 Dodge Charger Hellcat Redeye
12 of 45
2021 Dodge Charger Hellcat Redeye
13 of 45
2021 Dodge Charger Hellcat Redeye
14 of 45
2021 Dodge Charger Hellcat Redeye
15 of 45
2021 Dodge Charger Hellcat Redeye
16 of 45
2021 Dodge Charger Hellcat Redeye
17 of 45
2021 Dodge Charger Hellcat Redeye
18 of 45
2021 Dodge Charger Hellcat Redeye
19 of 45
2021 Dodge Charger Hellcat Redeye
20 of 45
2021 Dodge Charger Hellcat Redeye
21 of 45
2021 Dodge Charger Hellcat Redeye
22 of 45
2021 Dodge Charger Hellcat Redeye
23 of 45
2021 Dodge Charger Hellcat Redeye
24 of 45
2021 Dodge Charger Hellcat Redeye
25 of 45
2021 Dodge Charger Hellcat Redeye
26 of 45
2021 Dodge Charger Hellcat Redeye
27 of 45
2021 Dodge Charger Hellcat Redeye
28 of 45
2021 Dodge Charger Hellcat Redeye
29 of 45
2021 Dodge Charger Hellcat Redeye
30 of 45
2021 Dodge Charger Hellcat Redeye
Advertisement – Continue Reading Below
This content is created and maintained by a third party, and imported onto this page to help users provide their email addresses. You may be able to find more information about this and similar content at piano.io