View Photos of the 2021 Cadillac Escalade Diesel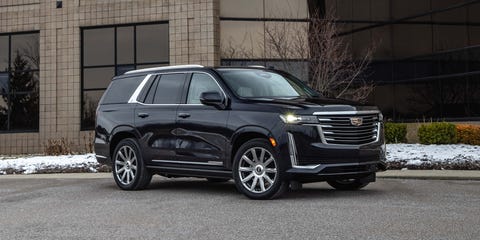 Michael SimariCar and Driver
The 2021 Cadillac Escalade's new 3.0-liter six-cylinder diesel engine option comes at no extra charge and complements a smooth ride with an excellent, fuel-sipping powertrain. The diesel is significantly less powerful than the standard gas-powered 6.2-liter V-8, but it has the same 460 pound-feet of torque.
Read the full review
1 of 57
Our test car came equipped with GM's Super Cruise hands-free driving tech, a $2500 option, which was introduced on the CT6 sedan and can operate on more than 200,000 miles of highways in the U.S.
2 of 57
The 2021 Cadillac Escalade is the only vehicle currently available with Super Cruise, but upcoming cars like the Chevrolet Bolt EUV and GMC Hummer EV will be available with the hands-free tech.
3 of 57
The Escalade has a new 3.0-liter diesel six-cylinder option—a 6.2-liter V-8 is standard—that produces 277 horsepower and 460 pound-feet of torque.
4 of 57
For Escalades equipped with the diesel option, which comes at no extra charge, the EPA estimates 20 mpg in the city and 26 mpg on the highway.
5 of 57
Our test car came equipped with an available air suspension and GM's latest magnetorheological dampers.
6 of 57
GM's new full-size SUV models, which include the Escalade, Chevrolet Tahoe, and GMC Yukon, now have an independent rear suspension that allows for more interior space, especially in the third row.
7 of 57
Escalades with the diesel option are rated to tow 200 pounds less than those equipped with the gas-powered 6.2-liter V-8.
8 of 57
In our 200-mile highway fuel-economy test, a Chevrolet Tahoe equipped with the diesel achieved 27 mpg, so we can expect similar results for the Cadillac.
9 of 57
The new Escalade features 38 inches of curved OLED screens that sprawl across the dashboard.
10 of 57
2021 Cadillac Escalade Duramax
11 of 57
2021 Cadillac Escalade Duramax
12 of 57
2021 Cadillac Escalade Duramax
13 of 57
2021 Cadillac Escalade Duramax
14 of 57
2021 Cadillac Escalade Duramax
15 of 57
2021 Cadillac Escalade Duramax
16 of 57
2021 Cadillac Escalade Duramax
17 of 57
2021 Cadillac Escalade Duramax
18 of 57
2021 Cadillac Escalade Duramax
19 of 57
2021 Cadillac Escalade Duramax
20 of 57
2021 Cadillac Escalade Duramax
21 of 57
2021 Cadillac Escalade Duramax
22 of 57
2021 Cadillac Escalade Duramax
23 of 57
2021 Cadillac Escalade Duramax
24 of 57
2021 Cadillac Escalade Duramax
25 of 57
2021 Cadillac Escalade Duramax
26 of 57
2021 Cadillac Escalade Duramax
27 of 57
2021 Cadillac Escalade Duramax
28 of 57
2021 Cadillac Escalade Duramax
29 of 57
2021 Cadillac Escalade Duramax
30 of 57
2021 Cadillac Escalade Duramax
Advertisement – Continue Reading Below
This content is created and maintained by a third party, and imported onto this page to help users provide their email addresses. You may be able to find more information about this and similar content at piano.io