View Photos of the 2021 Buick Envision Avenir AWD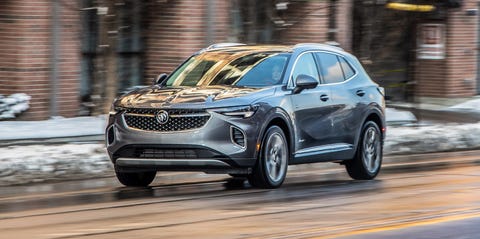 Andi HedrickCar and Driver
The redesigned 2021 Buick Envision enters its second generation with more attractive styling, lots of popular features, and a new range-topping Avenir trim level. But it needs to feel more satisfying to stand out amongst other compact luxury SUVs.
Read the full review
1 of 36
The new Envision benefits from a much prettier appearance and more pleasing proportions that should help it gain recognition on the street.
2 of 36
The top-of-the-line Avenir trim level makes its debut on the 2021 Envision, bringing exclusive exterior features such as shiny 20-inch wheels and a unique mesh grille design.
3 of 36
Inside, the top-tier Avenir boasts quilted leather-appointed front seats, a digital rearview mirror, heated outboard rear seats, a massage function for the driver's seat, and wireless charging.
4 of 36
Every Envision is available with a 10.2-inch touchscreen infotainment system that includes wireless Apple CarPlay and Android Auto.
5 of 36
Although the Buick's dashboard is canted towards the driver, some of the controls are still hard to reach and the layout clashes with the Envision's luxury-oriented aesthetic.
6 of 36
Under the hood, the Envision is powered by a 228-hp turbocharged 2.0-liter inline-four-cylinder engine. It mates with a nine-speed automatic transmission and either front- or all-wheel drive.
7 of 36
Every Envision comes standard with a suite of driver-assistance technology that includes forward-collision warning with automated emergency braking, automatic high-beams, blind-spot monitoring, lane-keeping assist, and rear cross-traffic alert.
8 of 36
Only the Avenir model is available with the Technology II package that adds enhanced automated emergency braking, adaptive cruise control, self-parking assist, adaptive dampers, and more.
9 of 36
Those who want a sportier appearance than the chrome-laden Avenir can opt for the new Sport Touring appearance package. Available on the Preferred and Essence models, it adds dark-finished 20-inch wheels and other dark-gloss exterior bits.
10 of 36
The Buick Envision starts at $32,955 for the base Preferred model. The mid-level Essence starts at $36,995. And the Avenir opens at $41,395. All-wheel drive is available on all models for $1800.
11 of 36
2021 Buick Envision Avenir AWD
12 of 36
2021 Buick Envision Avenir AWD
13 of 36
2021 Buick Envision Avenir AWD
14 of 36
2021 Buick Envision Avenir AWD
15 of 36
2021 Buick Envision Avenir AWD
16 of 36
2021 Buick Envision Avenir AWD
17 of 36
2021 Buick Envision Avenir AWD
18 of 36
2021 Buick Envision Avenir AWD
19 of 36
2021 Buick Envision Avenir AWD
20 of 36
2021 Buick Envision Avenir AWD
21 of 36
2021 Buick Envision Avenir AWD
22 of 36
2021 Buick Envision Avenir AWD
23 of 36
2021 Buick Envision Avenir AWD
24 of 36
2021 Buick Envision Avenir AWD
25 of 36
2021 Buick Envision Avenir AWD
26 of 36
2021 Buick Envision Avenir AWD
27 of 36
2021 Buick Envision Avenir AWD
28 of 36
2021 Buick Envision Avenir AWD
29 of 36
2021 Buick Envision Avenir AWD
30 of 36
2021 Buick Envision Avenir AWD
Advertisement – Continue Reading Below
This content is created and maintained by a third party, and imported onto this page to help users provide their email addresses. You may be able to find more information about this and similar content at piano.io