View Photos of the 2021 BMW M3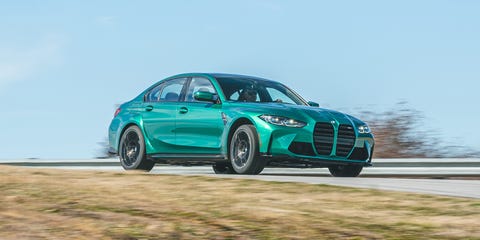 Marc UrbanoCar and Driver
Yes, everyone's talking about that grille. But believe us that once you run though the gears on a six-speed manual transmission that's hooked to a 473-horsepower straight six, you forget about the grille. Especially if you're trying to earn a high score on the in-car drift analyzer.
Read the full review
1 of 53
Yes, there it is: The Grille. Time will tell whether we get used to it.
2 of 53
Isle of Man Green is one of the new colors, and it's a good one.
3 of 53
A carbon fiber roof is standard. BMW says the optional sunroof will add around 60 pounds, which sounds like a good reason to skip it.
4 of 53
Almost an Alfa-like aspect from this angle, no?
5 of 53
Quad exhaust is standard. An optional titanium exhaust trims about 11 pounds but adds no extra power.
6 of 53
The M Drift Analyzer encourages this sort of thing, and the car is happy to tolerate big slip angles.
7 of 53
Why is there dirt on that tire? Must've been a muddy spot out there somewhere.
8 of 53
This would earn three stars, maybe, from the judgmental Drift Analyzer.
9 of 53
The M3 remains a track rat mashed up with a luxury car, happy in either mission.
10 of 53
Carbon brakes are optional, and welcome on the track.
11 of 53
The M Drift Analyzer adds points for speed, so chucking it sideways at 60 mph (probably about what you see here) earns a higher score than low-speed wet-skidpad antic. Usually.
12 of 53
The wet skidpad helped the M3 show off its balance. It could do this until it ran out of gas.
13 of 53
Would a Euro-style front license plate help? Just spitballing here.
14 of 53
The base M3 makes 473 horsepower, which feels like plenty.
15 of 53
If you really want to disguise the front end, go for an M3 in black. But this green looks pretty great.
16 of 53
The all-wheel-drive Competition models will be able to do this, too, with a rear-drive mode.
17 of 53
Even with big carbon brakes, 473 horsepower will declare victory at the rear end if you care to do a brakestand.
19 of 53
The M3 cockpit feels both modern and old-school cozy. Which is funny since this thing's the size of an E39 5-series.
20 of 53
Not the M Carbon seats, but plenty supportive nonetheless.
Advertisement – Continue Reading Below
This content is created and maintained by a third party, and imported onto this page to help users provide their email addresses. You may be able to find more information about this and similar content at piano.io