View Photos of the 2021 BMW 430i xDrive Coupe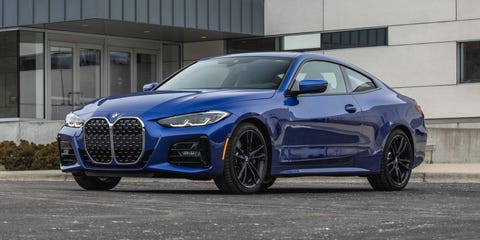 Michael SimariCar and Driver
BMW made a name for itself with rewarding sports sedans and coupes similar in concept to the modern 430i. While the four-cylinder powertrain lives up to the legend, the chassis is a letdown.
Read the full review
1 of 45
The BMW 430i xDrive is a four-cylinder, all-wheel-drive luxury sports coupe with a starting price of $48,595.
2 of 45
The 4's base engine is a 255-hp turbocharged 2.0-liter inline-four that delivers a 5.2-second 60-mph time and a ton of character everywhere in the rev range.
3 of 45
Armed with optional performance equipment and Michelin Pilot Sport 4S tires, the 430i has the reactions we've come to expect from BMW coupes, but it's lacking charm.
4 of 45
The Bimmer's interior isn't as opulent as those of some competitors, but the materials are high end, the fitment suggests quality, and the controls are intuitive.
5 of 45
BMW offers only an eight-speed automatic transmission with the 430i. It delivers crisp shifts and is easily one of the best automatics on sale today, but we still pine for a manual.
6 of 45
The 430i xDrive delivered excellent highway fuel economy, returning 34 mpg in Car and Driver's 75-mph real-world test.
7 of 45
The seats offer a lot of adjustability. They're supportive in high-g cornering and comfortable all day long.
8 of 45
Yes, the BMW 4-series really looks like that. The oversized nostrils and aggro secondary intakes distract from the car's excellent proportions and surfacing.
9 of 45
BMWs were once known for perfect suspension tuning and steering that helped drivers read the road. The 430i is a fine luxury coupe with a strong engine, but it's missing those key characteristics of its legendary predecessors.
10 of 45
The four-cylinder is plenty strong, but if you want real thrills, take a look at the 382-hp M440i xDrive or the upcoming BMW M4.
11 of 45
2021 BMW 430i xDrive coupe
12 of 45
2021 BMW 430i xDrive coupe
13 of 45
2021 BMW 430i xDrive coupe
14 of 45
2021 BMW 430i xDrive coupe
15 of 45
2021 BMW 430i xDrive coupe
16 of 45
2021 BMW 430i xDrive coupe
17 of 45
2021 BMW 430i xDrive coupe
18 of 45
2021 BMW 430i xDrive coupe
19 of 45
2021 BMW 430i xDrive coupe
20 of 45
2021 BMW 430i xDrive coupe
21 of 45
2021 BMW 430i xDrive coupe
22 of 45
2021 BMW 430i xDrive coupe
23 of 45
2021 BMW 430i xDrive coupe
24 of 45
2021 BMW 430i xDrive coupe
25 of 45
2021 BMW 430i xDrive coupe
26 of 45
2021 BMW 430i xDrive coupe
27 of 45
2021 BMW 430i xDrive coupe
28 of 45
2021 BMW 430i xDrive coupe
29 of 45
2021 BMW 430i xDrive coupe
30 of 45
2021 BMW 430i xDrive coupe
Advertisement – Continue Reading Below
This content is created and maintained by a third party, and imported onto this page to help users provide their email addresses. You may be able to find more information about this and similar content at piano.io