View Photos of the 2021 Aston Martin Vantage Roadster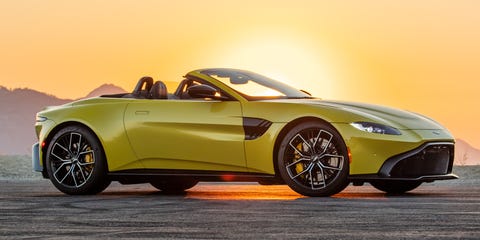 Aston Martin
People who say kids aren't into cars these days haven't driven a new Aston Martin. The new Vantage roadster exemplifies this with its sultry lines, twin-turbo V-8 roar, and impressive performance, all of which have a gravitational pull on the public, young and old alike.
Read the full review
1 of 36
Like the coupe, the new Vantage Roadster version of the two-seater stops anyone less than 18 years old in their tracks.
2 of 36
Our test car's Yellow Tang paint job was eye-catching but costs an extra $5,300. All of that glossy exterior carbon fiber added another $18,400 to its bottom line.
3 of 36
The Roadster's softtop folds away in just 6.7 seconds. According to Aston, that makes it the quickest power-convertible mechanism around.
4 of 36
Thickly insulated, the softtop seals out wind noise well on the highway and road roar on most surfaces.
5 of 36
Other exterior extras included our test car's $1,600 yellow brake calipers and $3,100 Snowflake wheels.
6 of 36
There are three suspension settings, but the default setup is firm and flat enough. Pirelli P Zero PZ4s, size 255/40R-20 front and 295/35R-20 rear, are standard.
7 of 36
We stopped complaining about the Vantage's squared-off steering wheel after just a single tank of fuel.
8 of 36
Painfully simple gauges seem out of sync with the complexity of its center stack and console, which look like they belong in the Millennium Falcon.
9 of 36
Yellow stitching added pizzazz to our test car's black leather, and Aston's big column-mounted paddle shifters are metal, but the overall fit and finish remains well behind its German rivals.
10 of 36
With options our test car cost $213,686, which is about twice the price of an all-wheel-drive Jaguar F-Type R convertible.
11 of 36
2021 Aston Martin Vantage Roadster
12 of 36
2021 Aston Martin Vantage Roadster
13 of 36
2021 Aston Martin Vantage Roadster
14 of 36
2021 Aston Martin Vantage Roadster
15 of 36
2021 Aston Martin Vantage Roadster
16 of 36
2021 Aston Martin Vantage Roadster
17 of 36
2021 Aston Martin Vantage Roadster
18 of 36
2021 Aston Martin Vantage Roadster
19 of 36
2021 Aston Martin Vantage Roadster
20 of 36
2021 Aston Martin Vantage Roadster
21 of 36
2021 Aston Martin Vantage Roadster
22 of 36
2021 Aston Martin Vantage Roadster
23 of 36
2021 Aston Martin Vantage Roadster
24 of 36
2021 Aston Martin Vantage Roadster
25 of 36
2021 Aston Martin Vantage Roadster
26 of 36
2021 Aston Martin Vantage Roadster
27 of 36
2021 Aston Martin Vantage Roadster
28 of 36
2021 Aston Martin Vantage Roadster
29 of 36
2021 Aston Martin Vantage Roadster
30 of 36
2021 Aston Martin Vantage Roadster
Advertisement – Continue Reading Below
This content is created and maintained by a third party, and imported onto this page to help users provide their email addresses. You may be able to find more information about this and similar content at piano.io