View Photos of the 2021 Acura TLX 2.0T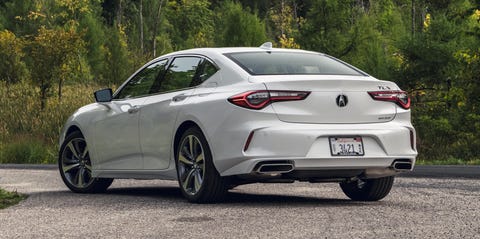 Michael SimariCar and Driver
The 2021 Acura TLX is an all-new compact luxury sedan that looks and feels like a first-rate effort. That's a good thing, as it's been awhile since Acura's had a worthy sports sedan.
Read the full review
1 of 38
The TLX looks supercar wide next to competitors such as the BMW 3-series. And it is, as it's fully 3.3 inches wider.
2 of 38
Until the high-performance Type S model debuts in 2021, all TLXs are powered by a 272-hp 2.0-liter turbo four-cylinder, with either front- or optional SH-AWD.
3 of 38
Under hood, there's so much space behind the engine that it looks like you could swap out the steering rack from above. That space is for the Type S's DOHC V-6.
4 of 38
That extra width translates into generous front-seat space, and the interior features authentic materials, including textured aluminum or wood trim.
5 of 38
The tires are one let-down on the TLX; they're low-end all-seasons, and not up to the near 1-g lateral grip that the segment's best can achieve today.
6 of 38
Pricing is up a substantial $4500 over the previous TLX, but its base price of $38,525 is some $3720 less than a 3-series.
7 of 38
The TLX returns to a control arm front suspension, with a five-link rear setup (one more link than before). Acura says that lateral stiffness is up by a whopping 85 percent in front, 45 percent in the rear.
8 of 38
This all-new architecture doesn't share a single part with the Honda Accord, although both are built in the same Ohio assembly plant.
9 of 38
Back-seat space is below average for the segment, and rear legroom in particular is stingy.
10 of 38
A-Spec models, which start at $40,525, get black exterior trim and grey wheels, while TLXs with the Advance package (base price $47,325) adds every available feature and it's the only way to get adaptive dampers.
Advertisement – Continue Reading Below
This content is created and maintained by a third party, and imported onto this page to help users provide their email addresses. You may be able to find more information about this and similar content at piano.io