View Photos of the 2020 Tesla Model Y Performance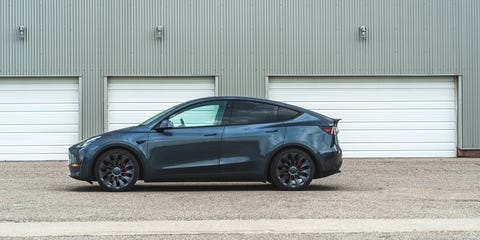 Marc UrbanoCar and Driver
The Tesla Model Y Performance's 3.6-second 60-mph time is solid and its 230 miles of observed range impresses for this type of EV. Yet, as we've experienced before, its build quality is less than stellar, and it lacks the thoughtful touches and outright driver engagement we've come to expect from similar performance-oriented SUVs.
Read the full review
1 of 32
The Tesla Model Y Performance trades some driving range for quicker acceleration and better handling.
2 of 32
While the 2020 Long Range model is rated for 316 miles per charge, the Performance trim's rating is only 291 miles.
3 of 32
The Performance trim also comes standard with 21-inch wheels, bigger brakes, a lowered suspension, and aluminum pedals.
4 of 32
Inside, the Performance and Long Range models are nearly identical, and both have a nearly buttonless interior with a large touchscreen that provides access to all of the vehicle's controls.
5 of 32
In our testing, the Model Y Performance managed a quick 3.6-second zero-to-60-mph run and managed a 12.1-second quarter-mile time at 113 mph.
6 of 32
The Model Y Performance also managed a 0.94-g result on our skidpad, proving it has plenty of cornering grip.
7 of 32
It's a quick SUV, and its all-electric powertrain makes it feel even quicker, but gasoline-powered rivals from BMW and Mercedes-AMG offer more driving enjoyment.
8 of 32
The Model Y is based on the smaller Model 3 sedan, which offers quicker acceleration, longer range, and more agile handling.
9 of 32
Where the Model Y shines over its sedan sibling is in its larger cargo area and roomier rear seat.
10 of 32
Those seeking to couple the speed of the Performance model with the Model Y's optional third row of seats, however, will be disappointed to learn that the seven-passenger configuration is not available on the hi-po trim.
11 of 32
2020 Tesla Model Y Performance
12 of 32
2020 Tesla Model Y Performance
13 of 32
2020 Tesla Model Y Performance
14 of 32
2020 Tesla Model Y Performance
15 of 32
2020 Tesla Model Y Performance
16 of 32
2020 Tesla Model Y Performance
17 of 32
2020 Tesla Model Y Performance
18 of 32
2020 Tesla Model Y Performance
19 of 32
2020 Tesla Model Y Performance
20 of 32
2020 Tesla Model Y Performance
21 of 32
2020 Tesla Model Y Performance
22 of 32
2020 Tesla Model Y Performance
23 of 32
2020 Tesla Model Y Performance
24 of 32
2020 Tesla Model Y Performance
25 of 32
2020 Tesla Model Y Performance
26 of 32
2020 Tesla Model Y Performance
27 of 32
2020 Tesla Model Y Performance
28 of 32
2020 Tesla Model Y Performance
29 of 32
2020 Tesla Model Y Performance
30 of 32
2020 Tesla Model Y Performance
Advertisement – Continue Reading Below
This content is created and maintained by a third party, and imported onto this page to help users provide their email addresses. You may be able to find more information about this and similar content at piano.io