View Photos of the 2020 Porsche 911 Carrera 4S Manual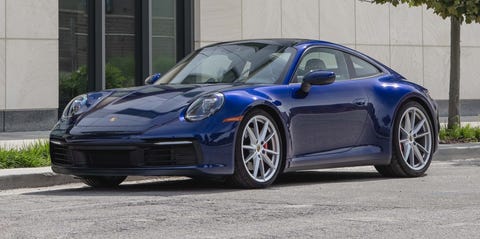 Michael SimariCar and Driver
This particular Porsche 911, the all-wheel-drive Carrera 4S, is one of the weirder 911 variants that you can buy. It features the seven-speed manual transmission that will appeal to purists but also carries a 180-pound weight penalty compared to the rear-drive Carrera S.
Read the full review
1 of 58
Porsche will eventually offer more than 20 variants of the 992-generation 911. In that crowded family, the 4S variants carve out a niche as the only models to offer all-wheel drive and a manual transmission.
2 of 58
Both Carrera S and Carrera 4S versions of the 911 use a twin-turbocharged 3.0-liter flat-six that makes 443 horsepower and 390 pound-feet of torque.
3 of 58
Porsche's seven-speed manual is a no-cost option on the 911 Carrera 4S. Most buyers will choose the excellent PDK eight-speed dual-clutch automatic, but those who opt for the manual will be rewarded with an extra element of engagement that makes the 911 that much more exciting.
4 of 58
With the 4S's manual transmission, there's no traction advantage to having all-wheel drive when launching the car on dry pavement. The lighter, rear-wheel-drive Carrera S is quicker to 60 mph and through the quarter-mile.
5 of 58
The seven-speed manual transmission shares much of its hardware with Porsche's seven-speed dual-clutch automatic.
6 of 58
Our 4S test car's chassis was enhanced with a lowered sport suspension and rear-wheel steering.
7 of 58
Equipped with the seven-speed manual, the Porsche 911 Carrera 4S hits 60 mph in 3.8 seconds and clears the quarter-mile in 12.1 seconds.
8 of 58
We averaged 31 mpg with the 911 4S in our 75-mph highway fuel economy test, beating its EPA estimate by a massive 7 mpg.
9 of 58
As if being an all-wheel-drive, manual-transmission sports car in the year 2020 isn't odd enough, the 911 Carrera 4S also has a back seat for two very small passengers.
10 of 58
Compared to the small electronic shifter in the automatic-transmission car, the manual-transmission car's shifter obscures several climate and infotainment controls from the driver's view.
11 of 58
2020 Porsche 911 Carrera 4S
12 of 58
2020 Porsche 911 Carrera 4S
13 of 58
2020 Porsche 911 Carrera 4S
14 of 58
2020 Porsche 911 Carrera 4S
15 of 58
2020 Porsche 911 Carrera 4S
16 of 58
2020 Porsche 911 Carrera 4S
17 of 58
2020 Porsche 911 Carrera 4S
18 of 58
2020 Porsche 911 Carrera 4S
19 of 58
2020 Porsche 911 Carrera 4S
20 of 58
2020 Porsche 911 Carrera 4S
21 of 58
2020 Porsche 911 Carrera 4S
22 of 58
2020 Porsche 911 Carrera 4S
23 of 58
2020 Porsche 911 Carrera 4S
24 of 58
2020 Porsche 911 Carrera 4S
25 of 58
2020 Porsche 911 Carrera 4S
26 of 58
2020 Porsche 911 Carrera 4S
27 of 58
2020 Porsche 911 Carrera 4S
28 of 58
2020 Porsche 911 Carrera 4S
29 of 58
2020 Porsche 911 Carrera 4S
30 of 58
2020 Porsche 911 Carrera 4S
Advertisement – Continue Reading Below
This content is created and maintained by a third party, and imported onto this page to help users provide their email addresses. You may be able to find more information about this and similar content at piano.io