View Photos of the 2020 Mercedes-AMG A35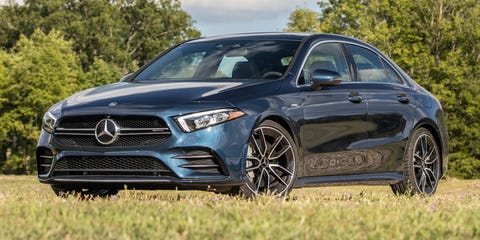 Andi HedrickCar and Driver
With AMG's potent 45-series models now in their second generation and gaining substantial refinement in the process, a new 35-series of models lays the foundation for the brand. As the smallest and least expensive of these new starter AMGs, the A35 compact sedan delivers impressive performance, albeit with not quite as much refinement as we'd like in a Mercedes.
Read the full review
1 of 48
Based on Benz's latest A-class, the A35 shares its platform and 107.4-inch wheelbase with the CLA35 yet is roughly five inches shorter overall.
2 of 48
Powering the A35 is a factory-built turbocharged 2.0-liter inline-four good for 302 horsepower and 295 pound-feet of torque.
3 of 48
A seven-speed dual-clutch automatic is the only transmission available in the A35. The 4Matic all-wheel-drive system is also standard.
4 of 48
Our A35 test car weighed 3515 pounds and shot to 60 mph in 4.3 seconds.
5 of 48
Aided by optional 19-inch Michelin Pilot Sport 4S summer tires, the A35 orbits the skidpad with an impressive 0.99 g of grip.
6 of 48
The A35's optional Ride Control suspension with adaptive dampers returns decent ride quality on smoother roads yet tends to crash harshly over rough pavement and highway expansion joints.
7 of 48
Unlike AMG's harder-core CLA45 sedan, the A35 does without a torque-vectoring rear differential and a rear-wheel-drive drift mode.
8 of 48
While the A35's cabin does feature some cheaper materials than what you'd find in a C- or E-class, it still presents a pleasantly rich and luxurious ambiance for a compact sedan.
9 of 48
The A35 comes standard with dual 10.3-inch dash displays for the instrument cluster and infotainment system, up from the lesser A-class's standard 7.0-inch units.
10 of 48
The A35 starts at a relatively reasonable $45,945, but pile on the options and its price comes precariously close to that of some of AMG's nicer and more powerful models.
11 of 48
2020 Mercedes-AMG A35 4Matic
12 of 48
2020 Mercedes-AMG A35 4Matic
13 of 48
2020 Mercedes-AMG A35 4Matic
14 of 48
2020 Mercedes-AMG A35 4Matic
15 of 48
2020 Mercedes-AMG A35 4Matic
16 of 48
2020 Mercedes-AMG A35 4Matic
17 of 48
2020 Mercedes-AMG A35 4Matic
18 of 48
2020 Mercedes-AMG A35 4Matic
19 of 48
2020 Mercedes-AMG A35 4Matic
20 of 48
2020 Mercedes-AMG A35 4Matic
21 of 48
2020 Mercedes-AMG A35 4Matic
22 of 48
2020 Mercedes-AMG A35 4Matic
23 of 48
2020 Mercedes-AMG A35 4Matic
24 of 48
2020 Mercedes-AMG A35 4Matic
25 of 48
2020 Mercedes-AMG A35 4Matic
26 of 48
2020 Mercedes-AMG A35 4Matic
27 of 48
2020 Mercedes-AMG A35 4Matic
28 of 48
2020 Mercedes-AMG A35 4Matic
29 of 48
2020 Mercedes-AMG A35 4Matic
30 of 48
2020 Mercedes-AMG A35 4Matic
Advertisement – Continue Reading Below
This content is created and maintained by a third party, and imported onto this page to help users provide their email addresses. You may be able to find more information about this and similar content at piano.io