View Photos of the 2020 Ford Transit 350 Crew AWD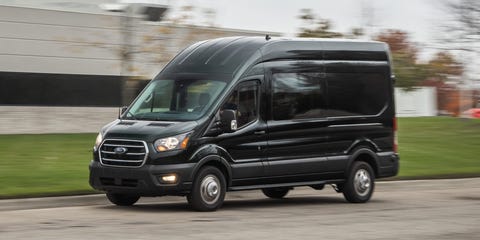 Michael SimariCar and Driver
For 2020, the Ford Transit gains a new trim, a new transmission, and optional all-wheel drive. Sadly, it loses its diesel option, rendering the five-cylinder engine an Audi-only endangered species.
Read the full review
1 of 42
Our Transit 350 came to us in the new Crew trim. This adds a second-row bench seat and bridges the gap between the passenger and cargo van variants.
2 of 42
With the diesel engine getting the axe for 2020, the Transit has only two engine options: the venerable 3.5-liter twin-turbo V-6 or the new 3.5-liter naturally aspirated V-6.
3 of 42
The 3.5-liter twin-turbo V-6 makes 310 horsepower and 400 pound-feet of torque and can be had in either rear- or all-wheel drive.
4 of 42
For 2020, the Transit will offer an all-wheel-drive system that can send as much as 100 percent of its torque to the front wheels.
5 of 42
Ford's ubiquitous 10-speed automatic transmission has also found its way into the Transit lineup for 2020.
6 of 42
A unibody construction and strut front suspension make the Transit feel worlds apart from its competition on the road.
7 of 42
For 2020, all Transits will receive an automatic stop-start system and automatic headlights as standard equipment.
8 of 42
Though its hauling capability precludes it from getting EPA fuel-economy ratings, our Transit 350 AWD High Roof managed 13 mpg combined and 16 mpg on our highway loop.
9 of 42
Either a 4.0- or 8.0-inch Sync 3 infotainment system can be had, and both come with Android Auto and Apple CarPlay.
10 of 42
Our test vehicle's Green Gem Metallic paint closely resembles British Racing Green. Why aren't more vehicles this color?
11 of 42
2020 Ford Transit 350 Crew AWD
12 of 42
2020 Ford Transit 350 Crew AWD
13 of 42
2020 Ford Transit 350 Crew AWD
14 of 42
2020 Ford Transit 350 Crew AWD
15 of 42
2020 Ford Transit 350 Crew AWD
16 of 42
2020 Ford Transit 350 Crew AWD
17 of 42
2020 Ford Transit 350 Crew AWD
18 of 42
2020 Ford Transit 350 Crew AWD
19 of 42
2020 Ford Transit 350 Crew AWD
20 of 42
2020 Ford Transit 350 Crew AWD
21 of 42
2020 Ford Transit 350 Crew AWD
22 of 42
2020 Ford Transit 350 Crew AWD
23 of 42
2020 Ford Transit 350 Crew AWD
24 of 42
2020 Ford Transit 350 Crew AWD
25 of 42
2020 Ford Transit 350 Crew AWD
26 of 42
2020 Ford Transit 350 Crew AWD
27 of 42
2020 Ford Transit 350 Crew AWD
28 of 42
2020 Ford Transit 350 Crew AWD
29 of 42
2020 Ford Transit 350 Crew AWD
30 of 42
2020 Ford Transit 350 Crew AWD
Advertisement – Continue Reading Below
This content is created and maintained by a third party, and imported onto this page to help users provide their email addresses. You may be able to find more information about this and similar content at piano.io