View Photos of the 2020 Ford Ranger Level 3 Off-Road Package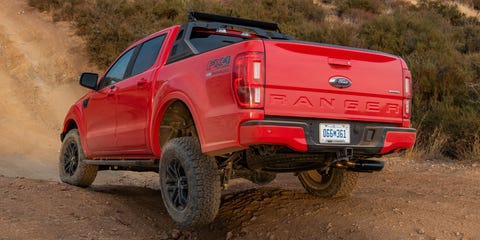 Jessica Lynn WalkerCar and Driver
In adding a suspension lift, larger all-terrain tires, a beefy steel front bumper, and a retuned engine computer, Ford's Level 3 Off Road package toughens the Ford Ranger's look and enhances its off-road performance. But at $8995, it's a pricey, less-than-perfect upgrade.
Read the full review
1 of 64
Its taller ride height, black steel front bumper, and lightbar not only add function and performance but also greatly increase the pickup's intimidation factor.
2 of 64
The Level 3 kit includes a Ford Performance chase rack that bolts to the top of its bed, a Rigid 40-inch LED lightbar (which packs the lumens of the sun), and a Ford Performance exhaust.
3 of 64
Level 3 suspension lifts the Ranger's front end by about two inches, leveling off its stance and increasing ground clearance.
4 of 64
Front springs with a slightly higher spring rate than the FX4 units combine with 2.0-inch-diameter Fox Racing dampers. The rear leaf springs are unchanged.
5 of 64
Attractive dark-gray wheels and knobby 32-inch tall BFGoodrich All-Terrain T/A KO2 tires that measure 265/70R-17 are also part of the package.
6 of 64
Up front, ground clearance improves to 11.8 inches and rear clearance climbs from 8.9 inches to 9.8.
7 of 64
A powder-coated steel front bumper from ARB adds 20 pounds, but it's winch ready and radically improves tire clearance.
8 of 64
The terrain management system is without the Ranger Raptor's Rock Crawl mode but offers settings for Grass, Gravel/Snow, Mud/Ruts, and Sand.
9 of 64
The dash off-road display gives you pitch, roll, and steering-angle readouts on the instrument cluster.
10 of 64
The Ranger's Trail Control button allows you to set a maximum crawl speed to avoid riding the brakes on steep downhills.
11 of 64
2020 Ford Ranger Lariat Ford Performance Level 3
12 of 64
2020 Ford Ranger Lariat Ford Performance Level 3
13 of 64
2020 Ford Ranger Lariat Ford Performance Level 3
14 of 64
2020 Ford Ranger Lariat Ford Performance Level 3
15 of 64
2020 Ford Ranger Lariat Ford Performance Level 3
16 of 64
2020 Ford Ranger Lariat Ford Performance Level 3
17 of 64
2020 Ford Ranger Lariat Ford Performance Level 3
18 of 64
2020 Ford Ranger Lariat Ford Performance Level 3
19 of 64
2020 Ford Ranger Lariat Ford Performance Level 3
20 of 64
2020 Ford Ranger Lariat Ford Performance Level 3
21 of 64
2020 Ford Ranger Lariat Ford Performance Level 3
22 of 64
2020 Ford Ranger Lariat Ford Performance Level 3
23 of 64
2020 Ford Ranger Lariat Ford Performance Level 3
24 of 64
2020 Ford Ranger Lariat Ford Performance Level 3
25 of 64
2020 Ford Ranger Lariat Ford Performance Level 3
26 of 64
2020 Ford Ranger Lariat Ford Performance Level 3
27 of 64
2020 Ford Ranger Lariat Ford Performance Level 3
28 of 64
2020 Ford Ranger Lariat Ford Performance Level 3
29 of 64
2020 Ford Ranger Lariat Ford Performance Level 3
30 of 64
2020 Ford Ranger Lariat Ford Performance Level 3
Advertisement – Continue Reading Below
This content is created and maintained by a third party, and imported onto this page to help users provide their email addresses. You may be able to find more information about this and similar content at piano.io