View Photos of the 2020 Ford Mustang GT350R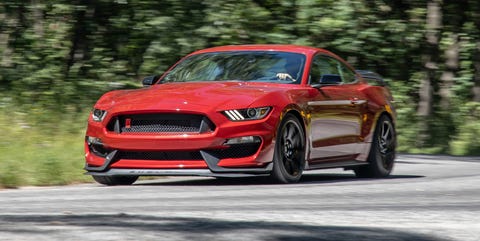 Andi HendrickCar and Driver
The 2020 Ford Mustang Shelby GT350 and GT350R will end production after this year. Revisions to the GT350R transformed it into a phenomenal car.
Read the full review
1 of 45
You're crazy if you think the Mustang looks better with stripes. Just look at it.
2 of 45
The GT350R blasts to 60 mph in 3.8 seconds.
3 of 45
All GT350Rs are fitted with carbon-fiber wheels and sticky Michelin Pilot Sport Cup 2 rubber.
4 of 45
The GT350R roars through the quarter-mile in 12.0 seconds at 120 mph.
5 of 45
For 2020, the GT350R receives a revised steering knuckle from the Ford Mustang Shelby GT500 that increases the caster to improve steering precision and straight-line stability.
6 of 45
The back seat was removed to shave some weight.
7 of 45
The GT350R clung to the skidpad at 1.11 g.
8 of 45
The GT350 and GT350R were special cars and will be missed.
9 of 45
For 2020, Ford swapped out the previous crossed-drilled brakes rotors for non-drilled but still vented discs because, by Ford's measurement, they're more durable and less expensive.
10 of 45
The only available transmission: a six-speed manual.
Advertisement – Continue Reading Below
This content is created and maintained by a third party, and imported onto this page to help users provide their email addresses. You may be able to find more information about this and similar content at piano.io