View Photos of the 2020 BMW M2 CS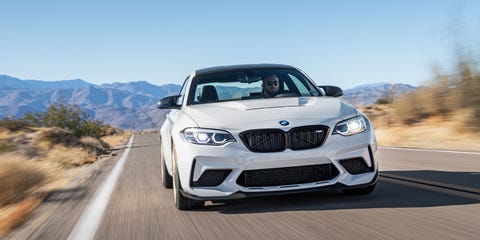 Jessica Lynn WalkerCar and Driver
With its 444-hp twin-turbo inline-six, adaptive dampers, and sticky Michelin Pilot Sport Cup 2 tires, the new limited-edition M2 CS is an intimately focused driver's car unlike many of the other models in BMW's current lineup.
read the full review
1 of 62
The 2020 BMW M2 CS uses the outgoing M3 and M4's 444-horsepower 3.0-liter I-6.
2 of 62
The M2 CS isn't much quicker than the M2 Competition at low speeds, because it's traction-limited off the line.
3 of 62
The CS does 0-60 in 3.9 seconds and runs the quarter-mile in 12.1 seconds at 120 mph.
4 of 62
A six-speed manual transmission helps the CS retain the fun-to-drive flavor of BMWs of yore.
5 of 62
The 3.0-liter makes 406 lb-ft of torque at only 2350 rpm.
6 of 62
The $8,500 carbon-ceramic brake rotors provide brutal stopping power—and they minimize grime on the optional gold wheels.
7 of 62
A carbon-fiber hood and roof help the M2 CS drop 83 pounds compared to the M2 Competition.
8 of 62
You'd probably appreciate the downforce from that modest spoiler at the M2 CS's claimed 174 mph top speed.
9 of 62
The biggest drawback of this great little car: its $84,595 base price. Ours was $93,095 as tested.
10 of 62
The shifter is a little bit rubbery, but that's in keeping with BMW tradition and doesn't lessen the fun.
Advertisement – Continue Reading Below
This content is created and maintained by a third party, and imported onto this page to help users provide their email addresses. You may be able to find more information about this and similar content at piano.io