View Photos of the 2019 Tesla Model 3 Performance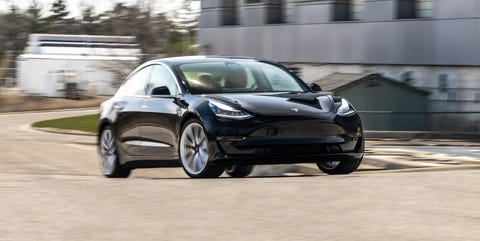 Andi HedrickCar and Driver
The Model 3 Performance makes Tesla's entry-level sedan more exciting and a track-day weapon with an increase in power over the Long Range model and the addition of stickier tires, bigger brakes, and visual tweaks. And it still has Tesla's vast Supercharger network on its side.
Read the full review
1 of 20
The Model 3 Performance shares its 75.0-kWh battery pack with the Long Range model, but it makes more power and is nearly a second quicker to 60 mph.
2 of 20
The EPA estimates that the Model 3 Performance will travel 310 miles on a full battery, but in our 75-mph highway test we made it 220 miles.
3 of 20
The Performance model gets 20-inch wheels wrapped in Michelin Pilot Sport 4S tires, and it's equipped with larger brake rotors clamped by red-painted calipers.
4 of 20
Other visual differences include a carbon-fiber lip spoiler, a red line under its Dual Motor badge on the rear, and aluminum pedals.
5 of 20
In our test the 2019 Model 3 Performance launched to 60 mph in 3.1 seconds on its way to a 11.6-second quarter mile at 115 mph.
6 of 20
Model 3 Performance models have access to Track mode, where drivers can adjust the power balance to favor the front or rear wheels, adjust the traction and stability control settings, and record lap times.
7 of 20
Track mode also allows adjustment of the regenerative braking when slowing for corners and keeps the battery's cooling systems on full blast to keep temperatures in check after hot laps.
8 of 20
On the components diagram in Track mode that appears in place of the driving graphic, blue indicates cold, red means hot, and green shows that it's at the ideal temperature.
9 of 20
Our test car came in at $66,190 as tested, which makes it significantly cheaper than the new BMW M3, but you can get a manual on the Bimmer.
10 of 20
Tesla doesn't disclose its power figures anymore, but the claimed 5 percent increase over the previous 450-hp model suggests the Model 3 Performance now makes around 470 horsepower.
11 of 20
2019 Tesla Model 3 Performance
12 of 20
2019 Tesla Model 3 Performance
13 of 20
2019 Tesla Model 3 Performance
14 of 20
2019 Tesla Model 3 Performance
15 of 20
2019 Tesla Model 3 Performance
16 of 20
2019 Tesla Model 3 Performance
17 of 20
2019 Tesla Model 3 Performance
18 of 20
2019 Tesla Model 3 Performance
19 of 20
2019 Tesla Model 3 Performance
20 of 20
2019 Tesla Model 3 Performance
Advertisement – Continue Reading Below
This content is created and maintained by a third party, and imported onto this page to help users provide their email addresses. You may be able to find more information about this and similar content at piano.io