View Photos of the 1995 Nissan Skyline R33 GT-R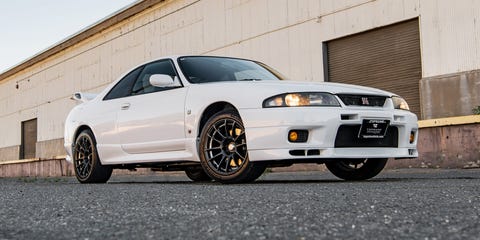 Jessica Lynn WalkerCar and Driver
In the U.S., any foreign-market car that is 25 years or older can be imported into the country with exemptions from a number of NHTSA regulations, including emissions. As of January, the 1995 Nissan Skyline R33 GT-R—one of the greatest Japan domestic-market cars of all time—can be legally brought Stateside.
Read the full review
1 of 54
Produced from January 1995 to November 1998, Nissan built 16,680 R33-generation GT-Rs, which is about three times the number of R32s it produced between 1989 and 1994.
2 of 54
Although our example is a standard GT-R, it features the N1 model's two rectangular front bumper scoops and small front spoiler on the leading edge of its hood.
3 of 54
Our R33's odometer reads 92,594 kilometers. That's just 57,535 miles. Its white paint is original, and it still wears all of the correct badging.
4 of 54
All-wheel drive was standard on the R33 GT-R, as was electronic rear steering, a five-speed manual transmission, and Nissan's celebrated RB26DETT engine, one of the greatest inline-sixes of all time.
5 of 54
The twin-turbo 2.6-liter RB26DETT was rated for 276 horsepower, which was a voluntary power ceiling agreed to by all Japanese automakers at the time. Redline is 8000 rpm.
6 of 54
The R33 V-Spec model we tested back in 1995 hit 60 mph in 5.3 seconds and covered the quarter mile in 14.0 seconds at 104 mph.
7 of 54
Open-element air filters are a common upgrade and the only engine modification on our test car. Its suspension and exhaust are also stock.
8 of 54
Our test car's wheels and tires have been swapped for newer units, but they keep their stock size.
9 of 54
Inside our R33 test car, the only mods are its aftermarket steering wheel, shift knob, and audio head unit.
10 of 54
You sit upright in old GT-Rs, and the stock seats are well bolstered and covered in grippy cloth.
11 of 54
1995 Nissan Skyline R33 GT-R
12 of 54
1995 Nissan Skyline R33 GT-R
13 of 54
1995 Nissan Skyline R33 GT-R
14 of 54
1995 Nissan Skyline R33 GT-R
15 of 54
1995 Nissan Skyline R33 GT-R
16 of 54
1995 Nissan Skyline R33 GT-R
17 of 54
1995 Nissan Skyline R33 GT-R
18 of 54
1995 Nissan Skyline R33 GT-R
19 of 54
1995 Nissan Skyline R33 GT-R
20 of 54
1995 Nissan Skyline R33 GT-R
21 of 54
1995 Nissan Skyline R33 GT-R
22 of 54
1995 Nissan Skyline R33 GT-R
23 of 54
1995 Nissan Skyline R33 GT-R
24 of 54
1995 Nissan Skyline R33 GT-R
25 of 54
1995 Nissan Skyline R33 GT-R
26 of 54
1995 Nissan Skyline R33 GT-R
27 of 54
1995 Nissan Skyline R33 GT-R
28 of 54
1995 Nissan Skyline R33 GT-R
29 of 54
1995 Nissan Skyline R33 GT-R
30 of 54
1995 Nissan Skyline R33 GT-R
Advertisement – Continue Reading Below
This content is created and maintained by a third party, and imported onto this page to help users provide their email addresses. You may be able to find more information about this and similar content at piano.io