View Photos of the 1984 Porsche 911 Ruf RSR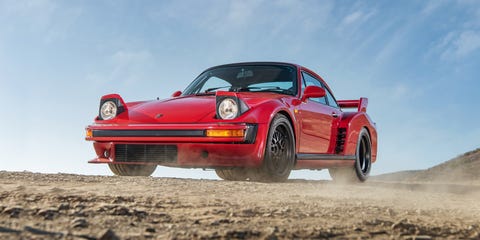 Jessica Lynn WalkerCar and Driver
Built back in the 1980s with wild 935-inspired slant-nose bodywork, this Ruf-modified Porsche 911 now packs a 700-plus-hp twin-turbo 3.8-liter flat-six and a six-speed manual. And it could soon be yours—for a price.
Read the full review
1 of 61
This Ruf RSR began life as a 911 Carrera 3.2 in the paint-to-sample color of Tornado Red from the Audi catalog.
2 of 61
In 1985, Alan Johnson Racing in San Diego crafted its roll cage and wild slant-nose Porsche 935-inspired body.
3 of 61
While it once featured a Ruf-tuned 3.4-liter flat-six, it now sports an air-cooled twin-turbo 3.8-liter flat-six from Protomotive in Harrison, Arkansas.
4 of 61
Sourced from a 993 911 Turbo and enlarged from 3.6 to 3.8 liters, the current engine makes a claimed 780 horsepower on race fuel.
5 of 61
This 911's rear visibility is impaired, not only by the enormity of its rear spoiler but also by its roll cage.
6 of 61
This RSR's original Ruf seats and steering wheel have been lost over the years. More modern replacements from Recaro and Momo have since been fitted.
7 of 61
The car's original Ruf gauges remain, including a boost gauge, 8000-rpm tachometer, and a 210-mph speedometer.
8 of 61
While the car's original 17-inch five-spoke Ruf alloy wheels are missing, its modern BBS replacements look awfully sharp.
9 of 61
This Ruf RSR is expected to fetch between $200,000 and $250,000 when it goes up for auction in early 2021.
Advertisement – Continue Reading Below
This content is created and maintained by a third party, and imported onto this page to help users provide their email addresses. You may be able to find more information about this and similar content at piano.io