View Photos of Our Long-Term 2020 Volvo S60 T8 Inscription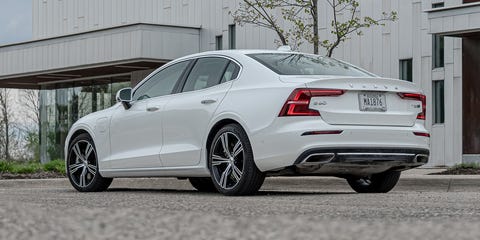 Marc UrbanoCar and Driver
A 2020 Volvo S60 joins our 40,000-mile long-term fleet in T8 plug-in hybrid trim.
Read the full review
1 of 36
The S60's T8 trim level sits near the top of the Swedish luxury sedan's model range, above the lesser T5 and T6 trims yet one rung below the top-spec Polestar Engineered model.
2 of 36
The S60 T8 boasts a combined 400 horsepower from its plug-in hybrid powertrain, which includes a 313-hp turbo- and supercharged 2.0-liter inline-four, an 87-hp motor-generator, and an 11.6-kWh lithium-ion battery pack. The S60's Polestar model boosts the system's output further to 416 horses.
3 of 36
All S60's feature an eight-speed automatic transmission. Entry-level T5 models come with front-wheel drive but T6 and T8 variants have standard all-wheel drive.
4 of 36
Although we've enjoyed testing the more aggressive R-Design version fo the new S60, we felt the more luxurious Inscription trim level is a better fit for the S60's demeanor.
5 of 36
The S60 T8 is estimated by the EPA to have 22 miles of pure-electric driving range.
6 of 36
The S60 T8 Inscription model starts at $56,395 but several options pushed our example's as-tested price to $64,195.
7 of 36
Among the options on our long-termer are an 1100-watt Bowers and Wilkins audio system, a luxury seating upgrade with ventilated and massaging front seats, heaters for the rear seats and the steering wheel, Volvo's Park Assist Pilot automatic parallel-parking system, and 19-inch wheels in place of the stock 18s.
8 of 36
Even with the Inscription model's tamer exterior execution, the latest S60 is an undeniably handsome design with good proportions and elegant curves.
9 of 36
We have yet to test an S60 T8 model but we expect our long-termer to reach 60 mph in 4.5 seconds when it makes its initial outing to the test track.
10 of 36
2020 Volvo S60 T8 Plug-In Hybrid
11 of 36
2020 Volvo S60 T8 Plug-In Hybrid
12 of 36
2020 Volvo S60 T8 Plug-In Hybrid
13 of 36
2020 Volvo S60 T8 Plug-In Hybrid
14 of 36
2020 Volvo S60 T8 Plug-In Hybrid
15 of 36
2020 Volvo S60 T8 Plug-In Hybrid
16 of 36
2020 Volvo S60 T8 Plug-In Hybrid
17 of 36
2020 Volvo S60 T8 Plug-In Hybrid
18 of 36
2020 Volvo S60 T8 Plug-In Hybrid
19 of 36
2020 Volvo S60 T8 Plug-In Hybrid
20 of 36
2020 Volvo S60 T8 Plug-In Hybrid
21 of 36
2020 Volvo S60 T8 Plug-In Hybrid
22 of 36
2020 Volvo S60 T8 Plug-In Hybrid
23 of 36
2020 Volvo S60 T8 Plug-In Hybrid
24 of 36
2020 Volvo S60 T8 Plug-In Hybrid
25 of 36
2020 Volvo S60 T8 Plug-In Hybrid
26 of 36
2020 Volvo S60 T8 Plug-In Hybrid
27 of 36
2020 Volvo S60 T8 Plug-In Hybrid
28 of 36
2020 Volvo S60 T8 Plug-In Hybrid
29 of 36
2020 Volvo S60 T8 Plug-In Hybrid
30 of 36
2020 Volvo S60 T8 Plug-In Hybrid
Advertisement – Continue Reading Below
This content is created and maintained by a third party, and imported onto this page to help users provide their email addresses. You may be able to find more information about this and similar content at piano.io