View Photos 2021 Ford Puma ST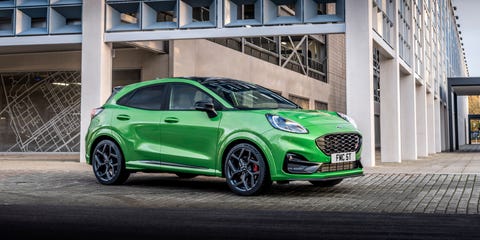 Ford
The 2021 Puma ST makes us long for the days when Ford sold small, spunky hatchbacks in the United States. This new one has donned a wee crossover getup, but like the Fiesta ST on which it's based and that Ford no longer sells here, the Puma ST is a joy to zip around in. Also like that car, the Puma won't be coming to America.
Read the full review
1 of 36
Based on the European-market sixth-generation Fiesta ST, the Puma ST is a crossover hot hatch.
2 of 36
Power comes from a turbocharged 1.5-liter inline-three engine making 197 horsepower and 236 pound-feet of torque.
3 of 36
The smaller engine makes the same peak power and more torque than the turbocharged 1.6-liter four-cylinder of the last U.S.-market Fiesta ST.
4 of 36
The Puma ST is only available with front-wheel drive and a six-speed manual gearbox.
5 of 36
Ford claims a 6.7-second zero-to-62-mph time, but the Puma ST feels much keener when driven hard.
6 of 36
An optional performance pack adds a limited-slip differential, launch control, and simulated shift lights for the standard LED instruments.
7 of 36
The Puma ST is 2.5 inches taller than the Fiesta ST, but shares the same suspension components, including a torsion beam rear axle.
8 of 36
Standard equipment on the Puma ST includes digital instruments, an 8.0-inch touchscreen running Ford's Sync 3 infotainment, and Recaro bucket seats.
9 of 36
The Puma's interior has generous headroom, but front-seat occupants sit close together. Room in the back is tight.
10 of 36
Standard Michelin Pilot Sport 4 S tires on 19-inch rims give strong grip, but the low-speed ride is very firm.
11 of 36
2021 Ford Puma ST (Euro-spec)
12 of 36
2021 Ford Puma ST (Euro-spec)
13 of 36
2021 Ford Puma ST (Euro-spec)
14 of 36
2021 Ford Puma ST (Euro-spec)
15 of 36
2021 Ford Puma ST (Euro-spec)
16 of 36
2021 Ford Puma ST (Euro-spec)
17 of 36
2021 Ford Puma ST (Euro-spec)
18 of 36
2021 Ford Puma ST (Euro-spec)
19 of 36
2021 Ford Puma ST (Euro-spec)
20 of 36
2021 Ford Puma ST (Euro-spec)
21 of 36
2021 Ford Puma ST (Euro-spec)
22 of 36
2021 Ford Puma ST (Euro-spec)
23 of 36
2021 Ford Puma ST (Euro-spec)
24 of 36
2021 Ford Puma ST (Euro-spec)
25 of 36
2021 Ford Puma ST (Euro-spec)
26 of 36
2021 Ford Puma ST (Euro-spec)
27 of 36
2021 Ford Puma ST (Euro-spec)
28 of 36
2021 Ford Puma ST (Euro-spec)
29 of 36
2021 Ford Puma ST (Euro-spec)
30 of 36
2021 Ford Puma ST (Euro-spec)
Advertisement – Continue Reading Below
This content is created and maintained by a third party, and imported onto this page to help users provide their email addresses. You may be able to find more information about this and similar content at piano.io