View In-Depth Photos of the 2020 Porsche 718 Cayman T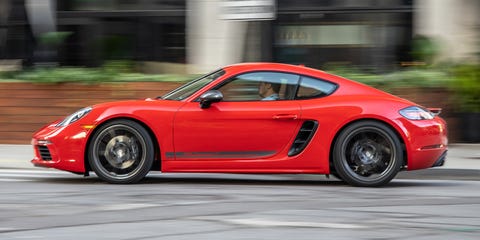 Andi HedrickCar and Driver
The Cayman T is a new addition to Porsche's mid-engine lineup. It combines several key packages from the extensive Cayman options menu. Built on the base 300-hp Cayman, it adds a firmer, lowered suspension with adaptive dampers, 20-inch wheels with summer tires, a limited-slip differential, and special trim for less money than it would cost to add those components separately.
Read the full review
1 of 39
The Cayman T is built from the base model, which comes with a 300-hp turbocharged 2.0-liter flat-four and a standard six-speed manual gearbox. (Porsche's seven-speed PDK dual-clutch automatic is optional.)
2 of 39
To make a T out of a base Cayman, Porsche adds several key mechanical options: PASM suspension, which includes adaptive dampers and a 0.8-inch lower ride height; 20-inch Carrera S wheels wrapped with summer rubber; a mechanical limited-slip differential; and the Sport Chrono package, which moves the driving-mode switches to a dial on the steering wheel.
3 of 39
Several exterior touches distinguish the T from other Caymans. Its big wheels are painted a special shade of dark titanium, as are the mirrors and the lower-body "T" decals. The rear-deck badging and the standard sport exhaust's tips are painted black.
4 of 39
Inside its cabin, the T gets deeply bolstered sport seats with a cool-looking textured cloth; the smaller-diameter GT sport steering wheel; the short-throw shifter from the top-dog GT4 model; and special "718" stitching on the headrests.
5 of 39
The T's Carrera S wheels are shod in meaty Pirelli P Zero PZ4 summer rubber, sized 235/35R-20 in front, 265/35R-20 in the rear.
6 of 39
Thanks to the Cayman T's svelte 3064-pound mass, 300 horsepower is enough to propel it to 60 mph in 4.4 seconds, which is just 0.7 second longer than the 414-hp Cayman GT4 needs.
7 of 39
The Cayman T pulls 1.01 g on the skidpad and approaches its cornering limits with confidence, thanks to sweetly communicative steering and a planted chassis.
8 of 39
The T's flat-four engine burbles like a Subaru's at low revs, a coarse earful that's not nearly as pleasing as the flat-sixes in the Cayman GTS 4.0 and GT4. The base four redeems itself by pulling strongly to its 7400-rpm redline and gunning the T through the quarter-mile in 12.8 seconds at 110 mph.
9 of 39
The T offers four driving modes: normal, Sport, Sport Plus and Individual. The latter allows you to mix-and-match damping firmness, throttle response, and exhaust sound into a single setting. The modes are controlled by a steering-wheel mounted dial.
10 of 39
Simplicity and purposefulness are the T's strengths. Its exterior is free of oversized aerodynamic appendages, its interior is conservative and businesslike. It's a car that drives like the analog Porsches of old, with a crisp, mechanical feel to its major controls.
11 of 39
2020 Porsche 718 Cayman T
12 of 39
2020 Porsche 718 Cayman T
13 of 39
2020 Porsche 718 Cayman T
14 of 39
2020 Porsche 718 Cayman T
15 of 39
2020 Porsche 718 Cayman T
16 of 39
2020 Porsche 718 Cayman T
17 of 39
2020 Porsche 718 Cayman T
18 of 39
2020 Porsche 718 Cayman T
19 of 39
2020 Porsche 718 Cayman T
20 of 39
2020 Porsche 718 Cayman T
21 of 39
2020 Porsche 718 Cayman T
22 of 39
2020 Porsche 718 Cayman T
23 of 39
2020 Porsche 718 Cayman T
24 of 39
2020 Porsche 718 Cayman T
25 of 39
2020 Porsche 718 Cayman T
26 of 39
2020 Porsche 718 Cayman T
27 of 39
2020 Porsche 718 Cayman T
28 of 39
2020 Porsche 718 Cayman T
29 of 39
2020 Porsche 718 Cayman T
30 of 39
2020 Porsche 718 Cayman T
Advertisement – Continue Reading Below
This content is created and maintained by a third party, and imported onto this page to help users provide their email addresses. You may be able to find more information about this and similar content at piano.io