View In-Depth Photos of the 2020 Porsche 718 Boxster GTS 4.0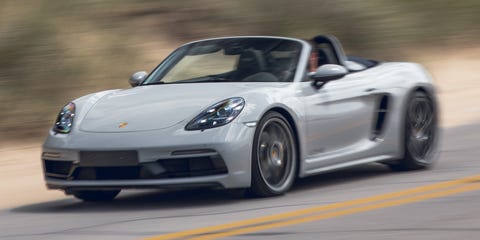 Michael SimariCar and Driver
The 2021 Porsche Boxster GTS 4.0 is all about the engine: a spectacular, naturally aspirated 394-hp flat-six that screams to 7800 rpm. This is the first flat-six in the Boxster/Cayman lineup (slightly detuned from the Cayman GT4 and Spyder models) since it switched to turbo-four-cylinder engines for the 2017 model year.
Read the full review
1 of 43
You can't easily see it, but you can certainly hear and feel the best part of the new GTS 4.0, which is a bored-and-stroked version of the twin-turbo 3.0-liter from the 911.
2 of 43
The 4.0's brilliant-shifting six-speed manual is a hand-me-down from Porsche's GT cars.
3 of 43
Our test car was a fairly loaded German-spec model with a United States price of $113,680. The Boxster GTS 4.0 will start at $90,250 when it arrives in late 2020.
4 of 43
We extracted a 3.8-second zero-to-60-mph time and 12.0-second quarter-mile pass. That's as quick as the more powerful 718 Spyder and nearly as quick as the quickest Cayman GT4 we've tested. Someone forgot to tell this engine it's supposed to be detuned.
5 of 43
The Boxster remains a dynamic benchmark, with some of the best steering and brake-pedal feel, as well as overall handling balance, available today at any price.
6 of 43
One of the only downsides is that the tall gearing limits experiencing the excellent shift quality of the six-speed manual. The top of second gear reaches past 80 mph and most of this country's speed limits.
7 of 43
However, sixth gear remains rather short, with 80 mph equating to 3200 rpm and leading to not-great highway fuel economy. In our 75-mph test, we measured 23 mpg.
8 of 43
All GTS 4.0 models get a two-mode sport exhaust with a button on the center console to make it louder. But those who have experienced the wondrous roar of a 911 GT3 or GT3 RS will likely want still more.
9 of 43
2020 Porsche 718 Boxster GTS 4.0 (German-spec)
10 of 43
2020 Porsche 718 Boxster GTS 4.0 (German-spec)
11 of 43
2020 Porsche 718 Boxster GTS 4.0 (German-spec)
12 of 43
2020 Porsche 718 Boxster GTS 4.0 (German-spec)
13 of 43
2020 Porsche 718 Boxster GTS 4.0 (German-spec)
14 of 43
2020 Porsche 718 Boxster GTS 4.0 (German-spec)
15 of 43
2020 Porsche 718 Boxster GTS 4.0 (German-spec)
16 of 43
2020 Porsche 718 Boxster GTS 4.0 (German-spec)
17 of 43
2020 Porsche 718 Boxster GTS 4.0 (German-spec)
18 of 43
2020 Porsche 718 Boxster GTS 4.0 (German-spec)
19 of 43
2020 Porsche 718 Boxster GTS 4.0 (German-spec)
20 of 43
2020 Porsche 718 Boxster GTS 4.0 (German-spec)
21 of 43
2020 Porsche 718 Boxster GTS 4.0 (German-spec)
22 of 43
2020 Porsche 718 Boxster GTS 4.0 (German-spec)
23 of 43
2020 Porsche 718 Boxster GTS 4.0 (German-spec)
24 of 43
2020 Porsche 718 Boxster GTS 4.0 (German-spec)
25 of 43
2020 Porsche 718 Boxster GTS 4.0 (German-spec)
26 of 43
2020 Porsche 718 Boxster GTS 4.0 (German-spec)
27 of 43
2020 Porsche 718 Boxster GTS 4.0 (German-spec)
28 of 43
2020 Porsche 718 Boxster GTS 4.0 (German-spec)
29 of 43
2020 Porsche 718 Boxster GTS 4.0 (German-spec)
30 of 43
2020 Porsche 718 Boxster GTS 4.0 (German-spec)
Advertisement – Continue Reading Below
This content is created and maintained by a third party, and imported onto this page to help users provide their email addresses. You may be able to find more information about this and similar content at piano.io