View In-Depth Photos of the 2020 Mercedes-AMG CLA45 4Matic+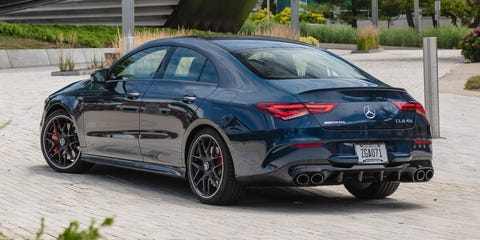 Michael SimariCar and Driver
The redesign for AMG's second-generation CLA45 compact sedan doesn't significantly alter its track results and high-performance character. But its larger, more polished CLA-class platform does bring a significant uptick in technology and refinement that better suits its $55K-plus asking price.
Read the full review
1 of 39
The 2020 CLA45 benefits from Mercedes-Benz's more refined second-generation CLA-class platform, which is two inches wider than before and an inch longer both overall and in wheelbase.
2 of 39
AMG's hand-assembled turbocharged 2.0-liter inline-four, codenamed M133, continues to power the CLA45. Updates include a new twin-scroll turbo with more boost, revised internals, and dual port and direct fuel injection.
3 of 39
AMG has yet to confirm if the new 416-hp CLA45 S model will come to the United States. The standard car that we get is good for 382 horsepower and 354 pound-feet of torque, increases of 7 horses and 4 pound-feet versus the previous model.
4 of 39
The CLA45 channels its power through a standard dual-clutch automatic transmission with eights speeds instead of the previous seven. Its updated 4Matic+ all-wheel-drive system gains a torque-vectoring rear differential that helps the car rotate around corners.
5 of 39
At 3743 pounds, our CLA45 test car was 180 pounds heavier than the last CLA45 model that we tested.
6 of 39
Our test car's 3.7-second 60-mph time and 12.2-second quarter-mile pass at 114 mph are about the same as the previous model's. However, our observed fuel economy jumped from 20 mpg to 24, and the return on our 75-mph highway test improved from 31 mpg to 34—a solid 5 mpg greater than the CLA45's EPA estimate.
7 of 39
When equipped with the optional $4300 Dynamic Plus package, the CLA45 gains a front-axle disconnect and a Drift mode for tail-out antics on the racetrack.
8 of 39
The refinements brought by the latest CLA's platform result in a noticeably better ride for the CLA45 and greater isolation from the angry four-cylinder under its hood. AMG's firm and heavily bolstered seats are pricey at $2,690 but are worth it for their comfort and support.
9 of 39
Mercedes's MBUX infotainment system may not be the easiest system to use, but it is properly high tech and helps lend the CLA45's cabin an upscale ambiance.
10 of 39
2020 Mercedes-AMG CLA45 4Matic+
11 of 39
2020 Mercedes-AMG CLA45 4Matic+
12 of 39
2020 Mercedes-AMG CLA45 4Matic+
13 of 39
2020 Mercedes-AMG CLA45 4Matic+
14 of 39
2020 Mercedes-AMG CLA45 4Matic+
15 of 39
2020 Mercedes-AMG CLA45 4Matic+
16 of 39
2020 Mercedes-AMG CLA45 4Matic+
17 of 39
2020 Mercedes-AMG CLA45 4Matic+
18 of 39
2020 Mercedes-AMG CLA45 4Matic+
19 of 39
2020 Mercedes-AMG CLA45 4Matic+
20 of 39
2020 Mercedes-AMG CLA45 4Matic+
21 of 39
2020 Mercedes-AMG CLA45 4Matic+
22 of 39
2020 Mercedes-AMG CLA45 4Matic+
23 of 39
2020 Mercedes-AMG CLA45 4Matic+
24 of 39
2020 Mercedes-AMG CLA45 4Matic+
25 of 39
2020 Mercedes-AMG CLA45 4Matic+
26 of 39
2020 Mercedes-AMG CLA45 4Matic+
27 of 39
2020 Mercedes-AMG CLA45 4Matic+
28 of 39
2020 Mercedes-AMG CLA45 4Matic+
29 of 39
2020 Mercedes-AMG CLA45 4Matic+
30 of 39
2020 Mercedes-AMG CLA45 4Matic+
Advertisement – Continue Reading Below
This content is created and maintained by a third party, and imported onto this page to help users provide their email addresses. You may be able to find more information about this and similar content at piano.io