View In-Depth Photos of the 2020 Lamborghini Huracán Evo RWD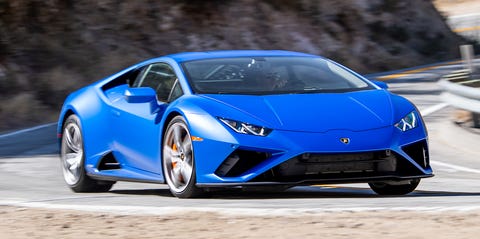 Jessica Lynn WalkerCar and Driver
The 2020 Lamborghini Huracán Evo RWD is a new rear-wheel-drive version of Lambo's entry-level supercar. It isn't as quick as the all-wheel-drive model, but it's a helluva lot more fun.
Read the full review
1 of 47
To compensate for the reduced weight on its front end, the nose of the Huracán Evo RWD has been redesigned to produce more downforce.
2 of 47
Our test car's transparent engine cover costs $6000, and the Small Forged Composite interior trim adds $3300.
3 of 47
Aside from the subtle tweaks to its front end, Lamborghini doesn't visually distinguish the RWD model from the standard Huracán Evo.
4 of 47
Lamborghini has increased the output of the Huracán Evo's naturally aspirated 5.2-liter V-10 to 602 horsepower at 8000 rpm and 413 pound-feet of torque at 6500 rpm, equaling the engine's output in the Audi R8 Performance.
5 of 47
When employing its launch-control system, the Evo RWD coupe should be able to hit 60 mph in 3.1 seconds, which is awfully quick but still not a great number for this class.
6 of 47
The Evo RWD's standard steel brakes feature uniquely shaped rotors with a wavy edge. Lamborghini says they improve cooling and reduce unsprung mass over conventional round rotors.
7 of 47
Pirelli P Zero summer tires wrapped around 19-inch wheels are standard on the Evo RWD. Carbon-ceramic brakes and 20-inch wheels are an option.
8 of 47
Our test car's $16,500 matte-blue paint and bright-orange interior was a hit at our local Cars & Coffee event. Orange brake calipers are a $1400 option.
9 of 47
Manually adjustable sport seats cost an extra $7500. They're firmer than they need to be but comfortable enough.
10 of 47
2020 Lamborghini Huracán Evo RWD
11 of 47
2020 Lamborghini Huracán Evo RWD
12 of 47
2020 Lamborghini Huracán Evo RWD
13 of 47
2020 Lamborghini Huracán Evo RWD
14 of 47
2020 Lamborghini Huracán Evo RWD
15 of 47
2020 Lamborghini Huracán Evo RWD
16 of 47
2020 Lamborghini Huracán Evo RWD
17 of 47
2020 Lamborghini Huracán Evo RWD
18 of 47
2020 Lamborghini Huracán Evo RWD
19 of 47
2020 Lamborghini Huracán Evo RWD
20 of 47
2020 Lamborghini Huracán Evo RWD
21 of 47
2020 Lamborghini Huracán Evo RWD
22 of 47
2020 Lamborghini Huracán Evo RWD
23 of 47
2020 Lamborghini Huracán Evo RWD
24 of 47
2020 Lamborghini Huracán Evo RWD
25 of 47
2020 Lamborghini Huracán Evo RWD
26 of 47
2020 Lamborghini Huracán Evo RWD
27 of 47
2020 Lamborghini Huracán Evo RWD
28 of 47
2020 Lamborghini Huracán Evo RWD
29 of 47
2020 Lamborghini Huracán Evo RWD
30 of 47
2020 Lamborghini Huracán Evo RWD
Advertisement – Continue Reading Below
This content is created and maintained by a third party, and imported onto this page to help users provide their email addresses. You may be able to find more information about this and similar content at piano.io