The Year in Ford's Bronco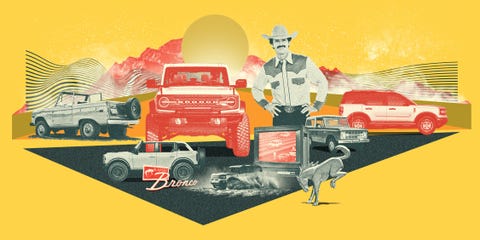 Illustration by Ryan OlbryshCar and Driver
Consider the arc of Ford's Bronco in 2020. As the year dawned, it was highly anticipated. As the year ends, it remains highly anticipated. Between then and now, a lot happened. There were delays, for reasons obvious and not so. There were plans—big ones. Most of those came together. There were oddities and incongruities, because of course there were. We don't name a car of the year here, but if one vehicle had a 2o20 of a year, it was the Bronco. A quick look back at the twists and turns.
Advertisement – Continue Reading Below
1
The Cover Story
Our February 2020 cover story dug into what we knew about the revived Bronco (plus a few highly educated guesses) and began with a big question: "Who has the harder job: a Disney producer assigned to the Star Wars franchise or a Ford engineer tasked with creating the new Bronco? Successfully modernizing a timeless classic means running a razor-thin line between blasphemy and anachronism. Basking in the warm, rosy glow of nostalgia, legions of die-hards with opinions cemented over decades stand ready to crucify the final product if anything is amiss."
The Rise of Skywalker turned out to be a mess, and so in that particular matchup, Ford's team took an early lead. And as Joey Capparella wrote, all available evidence at that moment suggested the Bronco was rounding nicely into shape. The official reveal was expected in the spring. Artist Nick Kaloterakis brought the preview package home with some fantastic renderings.
2
The Leak(s)
On February 9, in response to new spy photos, we made one simple request: "Hey Ford, Show Us the Bronco Already."
In mid-February, we got an idea when Ford would officially unwrap the new Bronco family. Automotive News reported the 2021 Bronco would be introduced in March, followed by the Sport's reveal in April. Probably at the New York auto show.
But time and official publicity plans wait for no one—as long as that one person has a camera on their phone and is willing to take a risk or two to get the shot. (Also, sometimes it's just good business to get a few photos out into the world, one way or another.)
On March 9, photos of the Bronco Sport—the "baby Bronco"—appeared on the Bronco Sport Forum. Later that day, photos of the big Bronco popped up on Instagram via The Raptor Connection.
And yes, it did look a good bit like the renderings that accompanied our cover story.
Twenty-four years since the last Bronco rolled off the line, and a few years since word of a revival leaked, a product launch was imminent.
3
The Oops
The March reveal never happened. We all know why. Auto shows were cancelled. Ford shifted to producing medical supplies. Months passed. And when things finally began to tilt ever so slightly toward what would feel like normal in 2020, well, you had to feel for Ford here.
It announced the Bronco would finally finally be revealed on July 9. In the midst of a global pandemic, it couldn't possibly have occurred to anyone involved to check and see if July 9 was O.J. Simpson's birthday. But it was his birthday.
So that was a problem. We all know why.
On Twitter, Ford said, "The reveal of the all-new Bronco lineup will now happen on Monday, July 13. This is instead of July 9. We are sensitive and respectful to some concerns raised previously about the date, which was purely coincidental."
4
The Lifestyle Brand
Do you like to get dusty? Do you enjoy tools that help you get dusty? How about T-shirts and hats celebrating the tools that help you get dusty? Stuff you can also get dusty.
"Today's uninspired SUV landscape needs the Bronco ingenuity," Ford's soon-to-be CEO Jim Farley said in a July 6 video introducing the Bronco as something more than just a revived badge. Like Martha Stewart and Margaritaville before it, the Bronco was going to become a lifestyle brand.
First we dissected the video for clues about the vehicles. Then we dug into the Very Bronco Life that Ford wants you to live, from the "Built Wild" marketing tag to four off-road parks dubbed Off-Rodeos.
Also, merch.
To reinforce the point that this was bigger than a normal reveal, and that Ford was aiming for an audience well beyond enthusiasts, it announced what's known in marketing circles as a roadblock. Ford teamed with Disney to run the Bronco out on ABC, Hulu, Nat Geo, and ESPN.
5
The History
Look, another rendering. This one is from Ford's archives, and it's one of the Bronco Popemobile concepts designed for Pope John Paul II's visit to the United States in 1979.
If you're going to take aim at Jeep and build a lifestyle brand in the process, you can't start from scratch. Ford had a lot to work with. Why was the new Bronco such a big deal (beyond Ford's obvious marketing goal of generating tons of attention and piles of money)? Read on.
7
The Waiting
Maybe you loved Walton Goggins in Justified. Or maybe you loved him in The Righteous Gemstones. It could also have been anything else Walton Goggins was in. The point is, Walton Goggins is great.
In John Bronco, a 40-minute mockumentary that debuted on Hulu in October, Goggins plays a guy pulled from obscurity when Ford decides to make him the face of the Bronco beginning in the 1960s. He becomes one of the world's biggest stars, a pitchman, as the song says, "cut from stone/with unbreakable bones/diamonds for eyes/and titanium thighs."
Tim Meadows co-stars John Bronco's agent.
If you're more interested in a documentary to help pass the time before the Broncos arrive, Ford had you covered there, too. Bring Back the Bronco is an eight-episode podcast hosted by Sonari Glinton.
So now it's October and we've had a lot of hype, some delays, and, finally, a multi-channel, multi-platform reveal that generated a ton of excitement and $15 million worth of refundable reservation deposits. All that followed a little more brand building in the guise of light entertainment. But still no product.
8
The Still Waiting
See that Bronco there? It's driving off toward a future date when the Broncos will finally pull into the driveways of all those people anxiously awaiting their new toy.
In early December, Ford announced that COVID-related supply chain disruptions would delay the Bronco. Originally scheduled for a spring 2021 launch, the two- and four-door models won't arrive until the end of the summer. The Sasquatch version with the manual transmission will arrive later still.
A bummer, to be sure. But when you're born wild in a wild year, stuff's going to happen.
9
The Baby Bronco At Last
The supply chain did not trip up the Bronco Sport, which you've maybe already seen on the road. There are three sitting on a dealer's lot not far from the office we haven't seen in months.
Our first impression? The Sport has earned its badge.
To really push it—and herself—around, our columnist Elana Scherr joined up with Ford's team for the Rebelle Rally. A trek covering more than 1500 miles across the mountains and deserts of the Southwest. Also, there were ants. The biting kind.
This content is created and maintained by a third party, and imported onto this page to help users provide their email addresses. You may be able to find more information about this and similar content at piano.io
Advertisement – Continue Reading Below