The 2005 Audi S4 battles the Cadillac CTS-V and Mercedes C55 AMG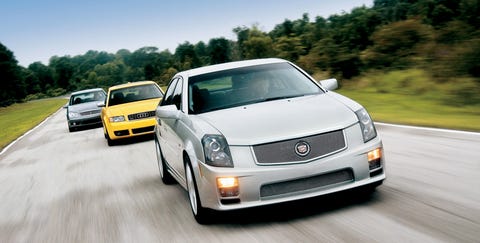 Aaron KileyCar and Driver
The reigning champ of midsize sports sedans, the 2005 Audi S4, takes on two V-8 challengers: the Cadillac CTS-V and Mercedes-Benz C55 AMG. Can the Audi's all-wheel-drive poise and polished style surmount its power deficit?
read the full review
1 of 28
The CTS-V turned the quickest lap at Nelson Ledges. And it might've done even better if we got more than one lap out of it.
2 of 28
All three of these pack a V-8, but their approaches are very different.
3 of 28
The Audi gets a 340-horsepower, 4.2-liter V-8 and a six-speed manual, while the Benz is treated to a 5.5-liter, 362-horsepower V-8 and a five-speed automatic.
4 of 28
The C55 AMG probably would have been quicker if it were offered with a manual.
5 of 28
With a 0-60 time of 4.7 seconds, the C55 barely edged out the muscular Caddy.
6 of 28
Nothing wrong with a C-Class that a 5.5-liter V-8 can't fix.
7 of 28
In case you forgot, the C55 AMG's tach reminds you that this isn't the old C32.
8 of 28
The Benz interior is more spare than an E-Class', but it's still well suited to purposeful driving.
9 of 28
The most important button here? The one labeled "ESP". Because you can fully defeat the traction control system in the C55 AMG.
10 of 28
The C55 AMG's quad pipes announce eight cylinders and 24 valves.
11 of 28
Drilled rotors and AMG calipers belie a brake pedal that got mushy during track use.
12 of 28
This badge corresponds to the car's engine displacement, and we can't imagine that practice will ever change.
13 of 28
The CTS-V, with its 400-horsepower Corvette engine, was the muscle car of the group.
14 of 28
The Caddy was the track champ, although fuel starvation issues ended its day early.
15 of 28
Cadillac's interior is a mish-mash of odd shapes and angles.
16 of 28
The good stuff: 5.7-liter V-8 and a strut tower brace.
17 of 28
The Cadillac's switchgear looks very GM, which is not a compliment.
18 of 28
We're delighted about the six-speed manual, less so the fact that launching the CTS-V requires a delicate clutch engagement to avoid axle hop.
19 of 28
The V managed a 167-foot stop from 70 mph.
20 of 28
We have a feeling we'll be seeing more of this badge.
21 of 28
The Audi S4 is the rare sedan that can pull off yellow paint.
22 of 28
Understeer is the S4's default cornering mode.
23 of 28
That big V-8 is way out over the nose, contributing to a 62-38 front-rear weight bias.
24 of 28
The S4 doesn't have a nav system, but it does have a sweet six-speed manual.
25 of 28
Now if only we got the cars with an "R" in front of that S.
26 of 28
The S4 doesn't look wildly different from a lesser A4, and that's part of the point.
27 of 28
Six speeds, all-wheel-drive: the winning Audi formula.
28 of 28
You shall know the S4 by its rear-view mirrors.
Advertisement – Continue Reading Below
This content is created and maintained by a third party, and imported onto this page to help users provide their email addresses. You may be able to find more information about this and similar content at piano.io