Safety First with These 11 Ski and Snowboard Helmets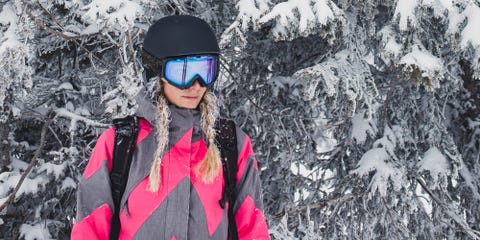 Stocksy
Why stay cooped-up inside this winter when you can ski or snowboard? Think early morning wake-up calls, breakfast burritos on the road, gearing up in the parking lot, meeting up with your favorite people, skiing or snowboarding all day long, winding down with some après-ski beverages at a mountain lodge, and then doing it all over again the next day!
Coordinating your jacket, pants, gloves, and goggles is one of our favorite parts of this winter sport — but you can't forget a helmet. Whether you're a newbie on the bunny slopes or a seasoned vet who doesn't flinch at the "Experts Only" warning signs, a helmet is an absolute necessity.
Our Top Picks
Modern ski and snowboard helmets range from simple, affordable options that just provide a protective shell around your dome, to pricey options that are lightweight and adjustable with additional safety features and protective layers. What you choose depends on your budget, experience level, and style (of course).
We've often said, "If you're not falling, you're not trying!" — so if you want to ski hard, you'll have to fall hard. But to get right back up and do it all over again, we recommend picking up one of this season's best ski and snowboard helmets. Because safety never sleeps.
1
Best-Selling Ski Helmet
Smith Optics Holt Helmet
Smith Optics
amazon.com
$65.00
Smith's Holt is one of the most popular helmets at many ski resorts across the country, thanks to its simple style and affordability. The Holt's sleek, low-profile design won't weigh you down — a rarity in this price range!
The soft liner and removable ear pads are plenty of warmth for most winter days, and can be coupled with a beanie when the going gets tough. Its elastic band isn't as snug and adjustable as helmets with a dial, but it's plenty comfortable for the budget-minded skier or snowboarder.
When you need a simple helmet that will complement — not overpower — the rest of your outfit, the Holt is a shoo-in.
Our editor, Christine Anderson, has worn a Smith Holt for years. It's sleek, comfortable, warm, and she can attest to the impact absorption. She avoids yard sales whenever possible, and is generally at the back of the (very fast) pack, but she's known to take a spill or two every day on the slopes. Smith protects her noggin season after season.
2
Best Budget Snow Helmet
Traverse Sports 2-in-1 Convertible Ski & Skate Helmet
Retrospec
amazon.com
This simple snow helmet is sturdy and available in eight different colors to match your mountain vibe. The shock-absorbent EPS interior will protect your head in case you wipe out, while the adjustable dial delivers a snug fit every time.
Our favorite feature? Foam inserts can be removed, transforming the Traverse into a cycling helmet in seconds. That's two for the price of one!
3
Most Complete Helmet
Smith Liberty MIPS Snow Helmet (Women's)
Ride freely with security and confidence thanks to Smith's newest offering — the Liberty MIPS helmet. It's the culmination of years of innovation, combining best-in-class protection with trend-setting style. Our editor, Andrew, protects his head with the Liberty MIPS helmet. And he sends it. Probably a little too hard.
Aerocore is Smith's hybrid helmet construction on display here. An integrated skeletal structure meets Koroyd — an open-cell, honeycomb-esque protective material that absorbs more impact and provides more airflow than traditional helmet materials.
Micro-adjustments can be made with a dial for the just-right fit, and the brim matches the curvature of Smith goggles for a seamless, gap-free look.
4
Lightest Snow Helmet
K2 Route Multi-Use Helmet
K2
backcountry.com
$74.98
Want to protect your noggin without feeling bogged down? At just 11 ounces, K2's Route is the lightest helmet on the market! It has an abundance of small holes that reduce weight and maximize ventilation, and it comes with a stretchy waterproof cover that conceals the holes in cold weather. 


The Route can be customized to your preference with removable headlamp clips, goggle clips, and ear pads, plus a fully adjustable Boa dial-fit system. It's even bike-certified, so you'll only need one helmet for year-round thrill-seeking.  
5
A Worthy Budget Choice
OutdoorMaster Kelvin Ski Helmet
OutdoorMaster
amazon.com
$46.99
If you're considering not wearing a helmet just to save some money on rentals (we know the cost adds up quickly!), think again! 
The Kelvin costs less than $40 — that's less than you'd pay to rent a helmet for 4 days, and it's much cheaper than a trip to the emergency room! It has 14 vents, a quick-dial to adjust the fit, and comes in nine different colors to match your jacket. 
6
Most Unique Helmet
Pret Cynic X MIPS Snow Helmet
We're a huge fan of Pret's helmets as an alternative to the more popular brands on the mountain (think Smith, Giro). In addition to a unique two-tone styling that we can't get enough of, this helmet's wool-blend liner is one of the most comfortable we've worn!
Although the ventilation isn't fully adjustable, some of its 12 vents have interior flaps that can be open and closed. And Pret has combined the MIPS system with added polycarbonate panels in areas where you need extra protection for some top-notch noggin protection. 
Overall, the Cynic X is a complete helmet with some unique detailing that will help your friends spot you from across the mountain. 
7
Safest Mid-Range Helmet
Giro Terra MIPS Helmet
Giro
backcountry.com
$179.95
The new Giro Terra MIPS Hemet is sleek, lightweight, and has all the necessary features to keep you comfortable when you're out on the mountain all day. An in-mold construction, which fuses the outer shell to the foam liner, keeps the Terra lightweight while delivering solid impact protection.
Giro's Terra also features industry-leading MIPS technology, which works by allowing two liners to move independently of each other when the helmet is subject to force, reducing rotational energy during certain impacts. If you've ever had a big spill, you understand why people pay extra for MIPS!
8
Most Advanced Premium Helmet
Sweet Protection Trooper MIPS Helmet
Sweet Protection
backcountry.com
$279.95
Just a few years back, Sweet Protection infiltrated the North American market after plenty of success in Norway. Their prosperity is owed to top-quality helmets that prioritize safety, catering to skiers and snowboarders who don't mind paying a premium for peace of mind.
The Trooper MIPS is one of the most advanced helmets available, courtesy of the company's "Thermoplastic Laminated Carbon Fiber" (TLC) shell construction, which is strong enough to stand up to heavy blows, yet flexible enough to disperse energy. 
For additional protection, Impact Shield inserts add even more shock absorption in the most crucial zones of your head. It's a small price to pay to live to ski another day!
9
Olympian-Approved Ski Helmet
Wildhorn Drift Snowboard & Ski Helmet
WildHorn Outfitters
amazon.com
$89.99
Looking for pro-level safety? Nobody needs more protection than an aerialist, and four-time Olympian Ashley Caldwell trusts this helmet most! Its outer shell is fused to the inner foam layer, which helps absorb impact and keep you safe.
Customizing the Drift helmet is a breeze, too. Tighten things up with the Fine Tune Adjustment dial, remove the music-compatible earpads on warmer days, and adjust its 13 vents to let cool air in and warm air out. With such a wallet-friendly price, there's no surprise this helmet is an Amazon Best Seller!
10
Honorable Mention
Oakley Mod 5 Snow Helmet
Oakley's Mod 5 helmet brings style, comfort, and compatibility to the hill. Their patented Modular Brim System has comes with two interchangeable brims — one small, one large – which provide a seamless fit with any Oakley goggles.
The Mod 5 has a lightweight shell, no-pressure ear cups, an integrated venting system to keep your head from overheating and your goggles from fogging up, and over 10 color choices to perfectly complement your flawless color-coordinating ski or snowboard outfit.
11
Cutest Snowboard Helmet
Roxy Angie Snowboard & Ski Helmet (Women's)
Looking for some cute accents for your skiing outfit? Hit the slopes with this sweet Roxy helmet to stay on trend and well-protected.
The Angie's double shell construction is super lightweight and even more protective! Vents at the front and back are connected by internal channels to keep you from getting sweaty. 
And comfort is superb, thanks to a mesh and fleece lining, plus super soft ear pads and chin strap made from Sherpa fabric.
This content is created and maintained by a third party, and imported onto this page to help users provide their email addresses. You may be able to find more information about this and similar content at piano.io
Advertisement – Continue Reading Below