Quickest Pickup Trucks We've Ever Tested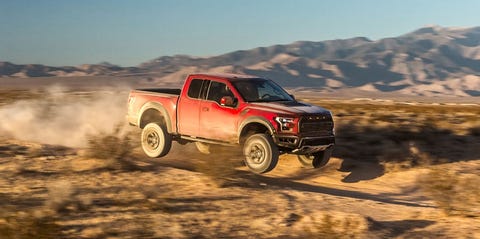 Marc UrbanoCar and Driver
As a country, we've proven we love ourselves some trucks. So much so, in fact, that the F-150 is the best-selling vehicle in the United States with average annual sales consistently bumping up against the million-unit mark. Add those numbers to offerings from Ram, Chevrolet, Toyota, and Nissan, and you've got yourself a figurative ton of trucks.
Yet with every year that passes, auto manufacturers have the tricky job of improving performance while minimizing the drag large vehicles place on their government-mandated CAFE targets. As a result, the tension between federal law and capitalism has inspired turbocharged engines, hyper-efficient transmissions, and weight-saving construction techniques and materials.
With zero-to-60-mph times approaching sports-car territory, these trucks prove that you can have your thrills and haul them, too.
2019 Ford Ranger XLT Supercrew — 6.4 seconds
Those of us who grew up with a healthy dose of middle America couldn't help but feel a tinge of nostalgia when Ford announced it had plans to bring the Ranger back. Though it took more than a decade for a new Ranger to roll off a Ford assembly line, the redesigned truck, built in Wayne, Michigan, sticks to the same simple-but-rugged formula that made it so popular years before. Sharing similar underpinnings with both the Mustang EcoBoost and Focus RS engines, the new Ranger's 2.3-liter four-banger puts out a warm 270 horsepower. As a result, we were able to hit 60 mph in an impressive 6.5 seconds.
2017 Toyota Tundra 5.7L V-8 CrewMax 4×4 — 6.3 seconds (tie)
The Tundra enters 2020 essentially the same truck it was when the iPhone debuted. And while that tidbit seems unimpressive, a quick look at the stats reveals just how forward-thinking Toyota's engineers were at the time. Though the bulbous beast sports a severely outdated interior, its 381-hp 5.7-liter i-Force V-8 delivers power and fuel economy nearly on par with today's half-tons. We tested the Tundra in 2017 and managed to extract an acceptable—even impressive, by some measures—6.4-second time to 60 mph.
2019 Ram 1500 Rebel 5.7L V-8 Crew Cab 4×4 — 6.3 seconds (tie)
The Ram Rebel is a truck's truck. It's not a Ford Raptor competitor, but it's not hiding behind a façade of fake off-road machismo either. Instead, with the Rebel, you get a squarely capable machine. Of course, those of us who enjoy driving body-on-frame vehicles recognize that the experience is improved greatly by a little oomph from behind. Though the Rebel, with its 395-hp V-8, is one of the slower options in the half-ton space, its 6.4-second zero-to-60-mph time proves adequate for the task at hand.
2019 Ram 1500 Laramie 5.7L V-8 Crew Cab 4×4 — 6.0 seconds (tie)
Despite Fiat Chrysler's desire to continuously improve fuel economy across its brands, Ram seems to believe in the classic idiom that there's no replacement for displacement. Our 395-hp 5.7-liter V-8-powered Ram 1500 tester, though slightly thirstier than the EcoBoost F-150, gets to 60 mph almost a half-second slower. Still, for a full-size truck, the tricked-out Laramie does a fine job of getting out of its own way, scooting along better than many hot hatches. And, let's be honest, there's something right about a big truck with a V-8.
2017 Chevrolet Colorado 3.6L V-6 4×4 Crew Cab — 6.0 seconds (tie)
Surprisingly, a near-equally powerful iteration of the Colorado existed back in 2009. At that time, the compact truck could be ordered with a 5.3-liter V-8 producing an even 300 horsepower. The latest version, equipped with the optional 3.6-liter V-6, manages to out-pull the old version to 60 mph by .6 seconds. The notable increase in quickness can be attributed to a slick eight-speed transmission, which houses two times as many gears as its senior.
2017 Ford F-150 3.5L V-6 EcoBoost 4×4 — 5.7 seconds
Another Ford? Yes, another Ford. The EcoBoost V-6 strikes again, enabling the mid-range F-150 to move only a half-second slower than the venerable Raptor. We tested a luxurious King Ranch edition and found its 5.7-second zero-to-60-mph time in line with the rest of its bourgeois character. Unlike either the Raptor or the F-150 Limited, however, the standard EcoBoost model gets by with a slightly neutered, 375-hp version of the modular engine.
2014 GMC Sierra 1500 6.2L V-8 4×4 Crew Cab – 5.4 seconds (tie)
Despite having two additional doors, four driven wheels instead of two, and 566 more pounds to lug around than the 2015 Ram 1500 listed earlier in this roundup, the crew-cab 2014 GMC Sierra 1500 outfitted with General Motors' 420-hp 6.2-liter V-8 tied that Ram R/T to 60 mph, posted an identical quarter-mile time (14.1 at 99 mph), and even returned the same zero-to-100-mph effort. We ultimately gave the GMC the nod due to its higher top speed, 110 mph versus the Mopar's 106; consider Vmax a tiebreaker. This GMC is the last one we tested equipped with both the 6.2-liter V-8 and the six-speed automatic transmission that GM replaced with an eight-speed for the 2015 model year. Full Review
2015 Ram 1500 R/T Hemi — 5.4 seconds (tie)
It's hard not to see the 2015 Ram 1500 R/T as a sort of diet SRT-10. That's not a bad thing. Its brooding 5.7-liter Hemi sends a healthy 395 horsepower to the rear wheels through an adequate eight-speed transmission. Continuing the diet theme, only coming in a rear-wheel-drive, regular-cab configuration keeps weight manageable at 5100 pounds. Best of all, however, when we let our resident hot shoes have a go at it, the pastoral truck pegged 60 mph in 5.4 seconds, just a half-second slower than its Viper-powered sibling.
2018 Ford F-150 5.0L V-8 4×2 SuperCrew — 5.4 seconds (tie)
There are two types of people who buy two-wheel-drive trucks: those who want to go fast and those who wear jackets when it drops below 65 degrees. And while the 2018 F-150 4×2 SuperCrew is surely aimed at the latter group, we were delightfully surprised during testing when the seemingly pedestrian truck put down a zero-to-60-mph time of 5.5 seconds. In a way, the 5.0-liter V-8-powered truck is a sort of BOGO deal especially considering its sub-$40,000 base price.
2019 Chevrolet Silverado 1500 6.2L V-8 — 5.3 (tie)
New for 2019, the big small-block Silverado is as polished as one would expect for its $60,000-plus price tag. Positioned at the top of the gas-powered offerings for the 1500 line, our testing exposed the new 6.2-liter truck as being as quick as the outgoing model—despite a spat of technology upgrades. Refreshingly, however, Chevy was able to keep the weight off with the redesigned model coming in 170 pounds lighter than the GMC Sierra 1500 we tested in 2014. With 420 horsepower and 460 lb-ft of torque, the new Silverado leaves little on the table, or in the wallet.
1991 GMC Syclone — 5.3 seconds (tie)
It was summer of '91, and trouble was brewing. An unruly group of automotive writers decided it worth the risk of upsetting Anteros, Carmenta, and the rest of the gods in order to see how truly fast a new twin-turbo GMC Syclone was. With 280 horsepower on tap, wide tires, and an overbuilt all-wheel-drive system, the Syclone and its funky brother, the Typhoon, became instant cult classics. The results were groundbreaking, and unfortunately, as punishment for the fourth estate's transgressions, the quarter-ton segment would eventually be vanquished from the U.S. forever.
2001 Ford SVT F-150 Lightning — 5.2 Seconds
The second and final generation of the Ford Lightning was powered by a supercharged, 5.4-liter V-8 making a claimed 380 horsepower and 450 lb-ft of torque. Despite the full-size truck's moderate power output and hefty 4700-pound curb weight, back in 2001 we were able to get one to hit 60 mph in 5.2 seconds. Credit the excellent work of Ford's SVT engineers creating harmony between the blown V-8 and its four-speed transmission. It doesn't hurt, either, that many Lightning owners who independently dyno'd their trucks reported seeing power levels significantly higher than stock.
2019 Ford F-150 Limited twin-turbo 3.5L V-6 — 5.0 seconds (tie)
Ford's modular EcoBoost engines have opened the door to all sorts of unexpected test results. One of the more peculiar ones occurred during our thrashing of the 2019 F-150 Limited. Surely, the Limited's 450 horsepower is justified by its nearly $70,000 price tag. What we didn't expect, however, was it to get down just as hard as its varsity-quarterback brother, the Ford Raptor. Crossing the 60-mph mark in just 5.1 seconds, this full-size truck reaches that benchmark only six-tenths of a second slower than the fire-breathing 2020 Mustang GT.
2017 Ford F-150 Raptor SuperCab — 5.0 seconds (tie)
The Ford F-150 Raptor makes yet another appearance on this list with its pumped-up version of the Ford twin-turbo 3.5-liter V-6, now with direct and port injection and 18 psi of boost. The new lump, which looks tiny ­buried in the engine bay behind an intake pipe that's about as fat and attractive as a sewer main, brings newfound muscle. Its 450 horsepower and 510 lb-ft of torque easily beat the V-8's output by 39 horsepower and 76 lb-ft. Combined with a weight savings of 404 pounds compared with the last Raptor SuperCab we tested (thanks, aluminum!), the Raptor isn't just ballsy for a truck, it's a genuinely quick machine, period.
2017 Ford F-150 Raptor SuperCrew — 4.9 seconds (tie)
Ford undoubtedly handed us the keys to their new 2017 Raptor SuperCrew for a 40k-mile test and as expected we gave it a proper flogging. Since its inception in 2008, and especially after a power-bumping refresh in 2011, the Raptor has been coveted by enthusiasts for its big power output and trophy-truckish qualities. The latest incarnation makes 450 horsepower from a twin-turbocharged 3.5-liter V-6 and goes from zero to 60 mph in 5.1 seconds.
2004 Dodge Ram SRT-10 — 4.9 seconds (tie)
A sledgehammer on four wheels, the 500-hp Ram SRT-10 was a beautiful homage to the back-alley, balls-to-the-wall legacy of the Mopar brand. The idea for such a truck was born in the dimly lit laboratories of Chrysler's Performance Vehicle Operations department, known more broadly as the Street & Racing Technology (SRT) division. To successfully bring their vision to life, SRT strapped the Viper's massive 8.3-liter V-10 to the truck's front subframe. The standard-cab variant we tested, available only with a Tremec T-56 five-speed manual, rocketed to 60 mph in an eye-watering 4.9 seconds. Good job, Chrysler.
2005 Hennessey Venom 800 TT Ram SRT-10 — 4.4 seconds
Not content with knowing a production Ram SRT-10 was the quickest pickup we ever tested, Texas-based Hennessey Performance Engineering sent us this modified crew-cab version with a four-speed automatic transmission, which Dodge added to the lineup for 2005. It rocked our truck senses with a 4.4-second pull to 60 mph while blitzing the quarter-mile in 12.4 seconds at 118 mph. Hennessey beefed up the 8.3-liter V-10 with stronger internals and a pair of Garrett turbochargers, upping the already powerful engine's output to 800 horsepower and a massive 850 lb-ft of torque. The $100k pickup also used an overhauled transmission to handle the extra power.
2021 Ram 1500 TRX — 3.7 seconds
It's taken 16 years, but the crown for quickest truck we've ever tested rests atop the cab of a new king. Meet the Ram 1500 TRX, a 702-hp supercharged half-ton pickup with over 13 inches of suspension travel, as illustrated above. FCA didn't just slap its Hellcat engine into a 10Best-winning truck, they reinforced the chassis to make it tougher, added adaptive Bilstein dampers, and 35-inch Goodyear Wrangler Territory all-season tires to keep the peace. It's heaver, wider, and 2.3 seconds quicker to 60 mph than the average 5.7-liter powered Ram 1500. What else is this 6866-pound monster quicker than? A Porsche 718 Cayman GT4, a Porsche Macan Turbo, and it's only 0.4 second slower than the Lamborghini Urus, the 12th quickest vehicle we've tested in 10 years. Naturally, the quickest pickup we've ever tested is also at the top of trucks with the worst fuel economy list.
This content is created and maintained by a third party, and imported onto this page to help users provide their email addresses. You may be able to find more information about this and similar content at piano.io