Presidential Limos of the World vs. Citizens' Most Purchased Cars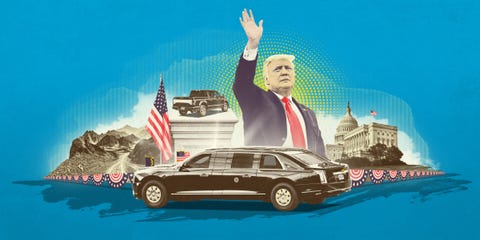 Ryan OlbryshCar and Driver
It takes a special kind of person to want to lead a country in today's world, doesn't it? It has to be exhausting being the target of scandal, blame, and Saturday Night Live cold opens. But there are perks, too. Take Queen Elizabeth II, for example. Not only is she driven in a $12 million Bentley limo made especially for her, she was gifted two of them on her 50th work anniversary. That's a slightly different ride than your average British subject gets behind the wheel of a Ford Fiesta, the country's best-selling model. We were inspired to think about this by a study in the U.K.'s Motor Easy on the world's automotive "wealth gap," not to mention the 2020 presidential election. So, in the spirit of current events, here's how world leaders (and figureheads) from various countries ride and drive compared to the people living under their rule.
U.K.: Queen Elizabeth II's Bentley State Limousine | 533x
Queen Elizabeth II is 94 years old and has held the throne since 1952. She's only a few years younger than Bentley, which celebrated its 101st birthday this year. When Her Majesty makes a public appearance, she travels in a Bentley State Limousine valued at roughly $12 million. Only two of these elongated Mulliner-built limos exist, and the queen owns them both. She received both 400-hp chariots on her 50th throne-versary in 2002.
British people love their Ford Fiestas, a model discontinued here in the U.S. for 2020. The hatchback has been a best-selling model for over a decade, and in European markets comes standard with 16-inch aluminum wheels and an 8.0-inch infotainment screen, as well as an available diesel powertrain. The Fiesta's base 94-hp 1.0-liter turbo four is crumbs compared to the 61-year old 6.8-liter V-8 in the queen's coach, but with a starting price of about $22,500, it's 533 times cheaper than the royal vehicle, too.
Russia: President Vladimir Putin's Aurus Senat | 100x
You may have seen photos circling of shirtless Russian President Vladmir Putin atop a horse in Siberia, but when he isn't cosplaying as a half-naked John Wayne, he's chauffeured around in a land yacht called the Aurus Senat. The Senat starts at $274,000, but Putin's is armored, and although details of its defenses are closely guarded, we figure it's safer than the horse. Putin sits comfortably in the back of Russia's first 598-hp all-wheel-drive luxury sedan, one that's still only about half the price of its $494,000 Rolls-Royce Phantom doppelgänger. You could buy a suspicious number of ads on Facebook with that extra money.
Everyday Russians drive more modest vehicles. The Lada Granta starts at around $5400 and, with an 87-hp base engine, it will get to 60 mph in the time it takes to eat a dozen beef pirozhkis. The Granta uses 175/45-14 tires on some of its models, a size shared with the now defunct Geo Metro. Russia's most popular car is also used by police and is available in sedan, hatchback, and wagon body styles.
North Korea: Supreme Leader Kim Jong-Un's Mercedes-Maybach S600 Pullman Guard | 100x
Rarely do we use the word supreme, unless we're ordering at a Taco Bell, but it's required when referring to North Korea's Supreme Leader, Kim Jong-Un. As in any autocratic regime, the guy at the top has the best and newest rides, but in North Korea that equates to a decade-old Mercedes-Maybach S600 Pullman Guard. It's powered by a 510-hp twin-turbocharged 5.5-liter V-12. When it was new it started between $700,000 and $1 million, depending on the seriousness of armor. Sources say Kim also owns more than 100 luxury cars, but unfortunately the line was busy when we called to confirm.
Early last year, NBC reported that North Korean automaker Pyeonghwa Motors produced only 1600 vehicles in 2018, and some had a base price as low as $10,000. That's cheaper than any new car here in the U.S., but the average annual income is also reportedly $1300. There's really no verifiable data from the country to illustrate who has a driver's license, but if Kim's black-sneaker security detail is any clue, that group is likely small.
China: President Xi Jinping's Hongqi N501 | 88x
Xi Jinping became president of China in 2013 and quickly got to work solidifying his power, silencing critics, and amending the constitution to remove term limits for the sitting president and vice president. His daily driver is powerful, too. Built by the oldest automaker in China, the Hongqi N501 replaces the restomod-looking L5, which was said to have cost $760,000. Details about the N501 are scarce, and so far it's only been spotted wearing government license plates, but parts of it seem very similar to the 17-foot-long Audi A8 L.
In 2019, the best-selling car in China was a German sedan. The Volkswagen Lavida sold more than 517,000 units, beating two of China's domestic automakers, Haval and Wuling. The Lavida is sold exclusively in China, where it was designed and is assembled. The base Lavida engine is a 114-hp turbo four-cylinder, and the car's overall length is just a few inches shorter than the Jetta. The Lavida starts under $17,000.
U.S.: President Donald Trump's Cadillac One | 50x
Nicknamed "The Beast," Donald Trump's 15,000-pound Cadillac is a display of power and protection. The Cadillac limo was first used by Barack Obama in 2009, and this new Beast was unveiled in 2018 with modern looks and new technology. The estimated cost is around $1.5 million. It carries a refrigerator with a supply of the president's blood type, fires tear gas, and has doors thick enough to keep its occupant safe from bullets and bombs. Although Trump publicly called for a boycott of the company, the Cadillac he rides in uses massive run-flat Goodyear tires to keep the Beast on its feet no matter what happens.
The rest of ous Americans can't buy enough of the Ford F-series pickup. 2020 marks the 38th consecutive year the F-series has been the best-selling vehicle in the U.S., with 896,526 sold in 2019. Pricing for the F-150 starts at $30,635 for a rear-wheel-drive single-cab model with a 290-hp 3.3-liter V-6. What's more American than a full-size pickup available in Blue Jeans blue paint?
Germany: Chancellor Angela Merkel's Audi A8 L Security | 25x
German Chancellor Angela Merkel has been called a lot of things, many of them laudatory. For instance, Forbes called her the most powerful woman in the world 13 times, and she was also named Time's Person of the Year in 2015. She travels in the new Audi A8 L Security, a 563-hp stretched A8 with ballistic protection and even an armored radiator. There are many secrets in this otherwise normal looking 18-foot-long sedan. Audi says there's an emergency-exit system that will literally blow the all the door hinges off the chassis. Its S8 powertrain and all-wheel-drive system make it the most powerful A8 available. It's also the most expensive, starting at around $750,000.
Volkswagen is treating Europe with cars we wish we were getting here in the U.S. The eighth-generation Golf, the plug-in-hybrid GTE, the completely new Alltrack, and the most powerful ever Golf R are all currently on sale in Europe. Only the GTI and Golf R are expected to show up next year for the States. The base Golf in Europe is roughly $30,000, or 25 times cheaper than Merkel's Audi.
U.K.: Prime Minister Boris Johnson's Jaguar XJ Sentinel | 22x
Before he became the leader of the Conservative Party, Boris Johnson, comb sold separately, used to review cars. We wonder what insane metaphors he'd use to describe the $450,000 Jaguar XJ Sentinel he's most often found in. Released in 2011, the 7260-pound armored XJ can withstand more than 30 pounds of TNT and grenade blasts. This special version uses a 385-hp V-8 like the normal XJ but stronger suspension and steering components, along with larger brakes from the XJ Supercharged. In June 2020 Johnson's XJ Sentinel was rear-ended after a protester stepped in front of his motorcade. It drove safely away with only a large dent in its trunk from the Land Rover full of security people behind it.
While the Mexico-built Ford Fiesta came to a stop in the U.S. for 2019, Ford in Europe launched a new-generation Fiesta in three-door, four-door, and crossover body styles. The new Fiesta is larger and more Focus-like in appearance. It's also exclusively built in Cologne, Germany.
New Zealand: Prime Minister Jacinda Ardern's Hyundai Ioniq EV | 1.5x
Unlike anyone else on this list, the most powerful person in New Zealand drives a front-wheel-drive EV that starts at less than $44,000. Prime Minister Jacinda Ardern does it differently, which is likely how, in 2017, she became the world's youngest female leader at the age of 37. The Hyundai Ioniq Electric doesn't shoot smoke or deploy machine guns; it's just incredibly economical and environmentally conscious, like Ardern. She once gave comedian Stephen Colbert a ride from the airport in her Ioniq during an interview, and they totally sang Queen's "Bohemian Rhapsody" at the top of their lungs.
The U.S. isn't the only country that loves its trucks. The Ford Ranger is New Zealand's best-selling vehicle, and it's the second-best-selling in nearby Australia. Base prices start around $29,000, and we can't help being a little jealous about Kiwis getting the beefy Ford Ranger Raptor that's yet to be offered in the U.S.
Uruguay: Former President José Mujica's Volkswagen Beetle | -1x
If you're going to be radical, be like the former president of Uruguay, José Mujica. From 2010 until 2015, he humbly donated 90 percent of his salary to charities that benefited low-income Uruguayans. He came up against term limits and now lives in a small house on a farm and drives a 1987 Volkswagen Beetle he refuses to sell. In 2014, he told BBC News that an Arab sheik offered him $1 million for the car, but he joked he needed to keep it to transport his three-legged dog, Manuela. A new Beetle back then cost around $7000. Hollywood couldn't cast a better duo if it made a movie about a South American leader that legalized both marijuana and same-sex marriage during his term.
We were unable to confirm what the best-selling vehicle is in Uruguay at the moment, but with VW and Suzuki (maker of the pictured Celerio) going head to head in the market, we're going to indulge in wishful thinking and name the Suzuki Jimny the top car there, just because we love it.
This content is created and maintained by a third party, and imported onto this page to help users provide their email addresses. You may be able to find more information about this and similar content at piano.io